business
APEC Won't Let South China Sea Angst Spoil Summit, Says Bollard
By
Trade and foreign ministers discussed disappointing growth

Ministers focused on services, domestic demand as new engines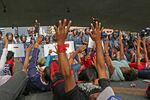 Officials gathered in Manila won't let issues like the disputed South China Sea "spoil" discussions on economic matters, Asia-Pacific Economic Cooperation Secretariat Executive Director Alan Bollard said.
"Of course we're aware of background geopolitical issues, they've always been there in one form or another," Bollard said in a Bloomberg Television Philippines interview on Monday as trade and foreign ministers held talks. "The people around the table in those APEC meetings know what they've achieved and what we still want to achieve and we don't want to spoil it by bringing up other issues and so we don't."
China's growing economic clout in the region has made it difficult for smaller economies to push back against its assertiveness in the contested South China Sea, a key waterway for trade. China has insisted the issue be kept off APEC's agenda, even as host the Philippines said it can't control what other leaders will raise during the meeting.
As export-dependent nations in the region become increasingly reliant on China for demand for their goods amid uneven recoveries in the U.S. and Europe, it has also made them vulnerable to a sharp slowdown in growth in Asia's biggest economy. China's economy is expanding at the slowest pace in 25 years as its leaders seek to transition from investment-driven, manufacturing-dominated growth to consumption and services.
In contrast, the U.S. is heading toward its fastest expansion since 2006, with Federal Reserve Chair Janet Yellen saying recently she anticipates growth will warrant a rise in interest rates. At about 7 percent, China's annual growth rates still dwarf the 2.5 percent expected this year in the U.S.
Disappointing Growth
While one or two ministers alluded to China's slowdown and an impending U.S. interest rate increase, China and the U.S. did not touch specifically on the topics. However, the issues have "focused ministers' attention because of course we've seen disappointing economic growth in the world, certainly in APEC," said Bollard.
Leaders including U.S. President Barack Obama and Chinese President Xi Jinping will hold a retreat starting Wednesday in Manila.
The ministers meeting Monday agreed on the need to reduce barriers to trade and investment and focused on how services and domestic demand in middle-income economies can be engines for growth, he said.
Economic growth in the Asia Pacific will probably accelerate to 3.4 percent in 2016 from 3.1 percent this year, Denis Hew, APEC's policy support director, told reporters in Manila on Monday. Household spending remains the major driver of growth, Hew said.
Trade Deal
The Trans-Pacific Partnership trade deal struck in October between a dozen Pacific nations including the U.S. and Japan -- but not China -- also drew a few comments from ministers though no specific concerns were raised, said Bollard.
The agreement will provide duty-free trade on most goods in a bloc that represents about 40 percent of the global economy. The TPP must be ratified by its members and may face hurdles, particularly in the U.S. Congress. Obama faces opposition in his own ranks, with Democratic Party presidential candidate Hillary Clinton saying she opposes the deal.
"There was a little bit of comment from ministers, but I think they're all in the context of" the Free Trade Area of the Asia-Pacific study, Bollard said, referring to an agreement that will link the 21 APEC countries.
— With assistance by Ditas B Lopez
Before it's here, it's on the Bloomberg Terminal.
LEARN MORE