Airline Advance at Risk as Paris-Egypt Shocks Erode Gains on Oil
by and
Carriers braced for slump in demand after terror attacks

Record summer bookings could become a distant memory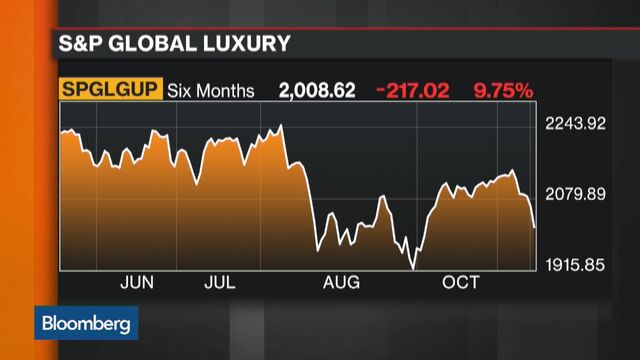 European airlines that reaped gains from a lower oil price and surging summer tourist traffic face a grim end to 2015 as the Paris terror attacks threaten to depress demand for an industry already under pressure following the downing of a Russian passenger plane in Egypt two weeks ago.
Air France suffered a slump in passenger numbers following an attack on French satirical magazine Charlie Hebdo and a Kosher grocery store in January, and "the same is expected to be the case as a result of Friday's events," Goodbody analyst Mark Simpson said in a note. It's not clear if the more random nature of the latest killings will prolong their impact.
Aviation stocks slumped across Europe Monday, with Air France-KLM Group closing down 5.7 percent and Aeroports de Paris, which runs the French capital's main Charles de Gaulle hub, 3.7 percent. Overseas carriers were also affected, with IAG SA, parent of British Airways, whose key trans-Atlantic routes are heavily dependent on business and tourist visits to Europe from the U.S., losing 2.8 percent and Germany's Deutsche Lufthansa AG 2.3 percent.
Attractions Closed
France has closed cultural and tourist sites in the wake of what President Francois Hollande says was "an act of war" by Islamic State. The attacks, which have claimed 129 lives, come after January's slayings left 15 dead and amid growing evidence that a bomb downed the jet in Sinai, killing 224.
"We observed tragic events in Paris, and the crash of the airplane over Egypt," Alexey Mordashov, the largest investor in TUI AG, Europe's No. 1 tour operator, told Bloomberg Television at the G20 meeting in Turkey after the Paris attacks. "It will definitely have some impact on tourism, but it's too early to judge."
European airlines face uncertain times after posting some of the strongest results for years in the third quarter, aided by lower jet-fuel costs and a surge in late bookings prompted by a wet summer in northern Europe.
The apparent disintegration of a Metrojet Airbus Group SE A321 jetliner shortly after takeoff from Sharm el-Sheikh on Oct. 31 had already led some countries to ban flights to the Red Sea resort amid security concerns, prompting a shuffle of low-season capacity.
Seating Concern
Luton, England-based EasyJet Plc, which has been evacuating about 4,000 passengers stranded in Sinai, deploys 20 percent of its capacity in France and saw its shares decline as much as 3.5 percent.
Rival low-cost carrier Ryanair Holdings Plc suggested months ago that too many seats would be available across Europe this winter, with the result that ticket prices could come under pressure amid a fare war. A decline in demand should people choose to stay home for fear of further outrages would make that more likely.
"Hotels, restaurants, travel agencies as well as other companies in the tourist industry will see a drop in demand, in France but also in other countries targeted by Islamic State," John Plassard, a senior equity-sales trader at Mirabaud in Geneva, said by phone.
U.S., Asia
Shares of Accor SA, Europe's top hotel operator, closed down 4.7 percent in Paris, where the company is based, and Channel Tunnel operator Groupe Eurotunnel SE slipped 3 percent. TUI lost 4.1 percent in London and Thomas Cook Group Plc was down 4.8 percent.
Online travel-booking sites also fell in the U.S. amid concern that the attacks will damp European tourism. Priceline Group Inc. was trading 4.2 percent lower at 10:58 a.m. in New York and Expedia Inc. had lost 2.6 percent. Among U.S. airlines, Delta Air Lines Inc. was down 3.8 percent and United Continental Holdings Inc. had slipped 2.1 percent.
Airline stocks closed down in Asia, with China Eastern Airlines Corp. losing 4.7 percent, Cathay Pacific Airways Ltd. 2.7 percent and China Southern Airlines Co. 2.1 percent.
Still, carriers aren't likely to react to the Paris atrocities in the way they responded to the Metrojet crash, according to Turkish Airlines Chief Executive Officer Temil Kotil, whose company has suspended Sinai flights.
'Strong Enough'
"Turks will continue to go to Paris," Kotil said in an interview at the G20 event. "I will continue to go to Paris as it is, no problem. I know the danger, I go myself, I bring my kids. Individual cases, the French authorities are strong enough to sort them out if there is a repeat."
Aeroports de Paris said additional security measures are adding about an hour to the travel time for outbound passengers.
The U.K. announced plans to double spending on aviation security Monday. Prime Minister David Cameron has also ordered a review of security at foreign airports, particularly those in the Middle East and North Africa.
Gert Zonneveld, an analyst at Panmure Gordon, said booking patterns could still return to normal "quite quickly, within four to five weeks" -- provided there are no further atrocities.
Before it's here, it's on the Bloomberg Terminal.
LEARN MORE