Vegas Sports Books Got Clobbered in Rousey's Stunning First Loss
by
Many bettors put money on low risk, high reward Holly Holm

'Biggest upset' in Ultimate Fighting Championship history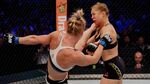 The stunning defeat of Ultimate Fighting Championship superstar Ronda Rousey also put the hurt on many Las Vegas sports books.
While a majority of money is typically bet on favorites, Rousey was so heavily favored going into Saturday's title fight that many bettors took long odds on challenger Holly Holm. She opened at 14-1 at the Westgate Las Vegas SuperBook and was gradually bet down to 8-1 in the weeks leading up to fight.
"We definitely came out on the wrong side," said Michael Grodsky, spokesman for William Hill, where 96 percent of the wagers backed Holm. Those tickets represented just 28 percent of the money, but any book paying out more than a quarter of its handle to a 13-2 underdog loses money in bunches. "We needed Rousey just like we typically need Mayweather when he is a big favorite."
Holm knocked out Rousey with a head kick one minute into the second round at Etihad Stadium in Australia. Rousey was unconscious as she hit the mat and the fight was called after Holm landed two free shots to her opponent's face.
More money was wagered on the Rousey-Holm fight than on any of Rousey's fights to date,, and about one-third as much as is typically wagered on an NFL game, estimated R.J. Bell, founder of handicapping website Pregame.com. MGM sports book director Jay Rood said that while the fight wasn't heavily bet, most of the money they handled was on Holm. "We did not do well," he said in an e-mail.
Announcer Joe Rogan, who called the fight, said it was the "biggest upset" in the history of UFC. Rousey was taken to the hospital after the loss.
A former boxer, Holm is the first athlete -- man or woman -- to win world titles in boxing and UFC, according to ESPN.
Before it's here, it's on the Bloomberg Terminal.
LEARN MORE