U.S. Stocks Rally as Energy Leads Rebound Amid Paris Aftermath
by
Energy companies rebound from worst week since August

Travel-related shares retreat after Friday's Paris attacks
U.S. stocks rebounded after their worst week since an August selloff, paced by energy shares amid speculation that any fallout from Friday's terrorist attacks in Paris would have a limited economic impact.
Last week's hardest-hit group led the rally, an echo of the snapback from the summer selloff, as Chevron Corp. and Exxon Mobil Corp. gained more than 3.5 percent. Procter & Gamble Co. and Wal-Mart Stores Inc. led a surge among consumer staples, rising at least 1.8 percent. Defense companies drove gains among industrials, and thermal-imaging camera maker Flir Systems Inc. jumped 10 percent to lead the S&P 500.
The Standard & Poor's 500 Index rose 1.5 percent to 2,053.19 at 4 p.m. in New York, the biggest gain in more than three weeks. The gauge rose back above its average price during the past 100 days. The Dow Jones Industrial Average added 237.77 points, or 1.4 percent, to 17,483.01. It was the Dow's third consecutive move of at least 200 points.The Nasdaq Composite Index increased 1.2 percent. About 6.8 billion shares traded hands on U.S. exchanges, 9.7 percent below the three-month average.
"We had a pretty sizable loss over the last two weeks and just because of that we may not be seeing as much as a negative reaction as we could have if the tragedy occurred two weeks ago when the market was up within one percent of the highs," said Frank Cappelleri, a market technician at Instinet LLC in New York. "Today at least, knowing where the market has come from, it's helped it at least to be stable."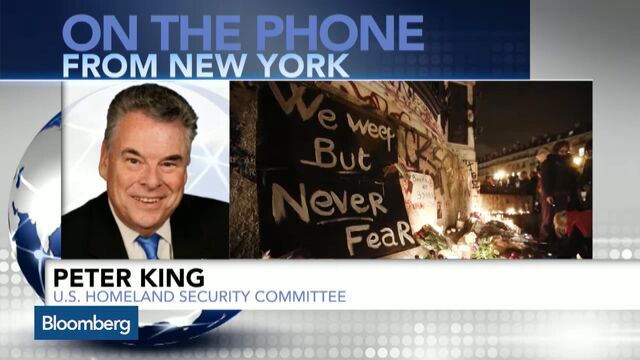 Coordinated assaults late Friday linked to Islamist radicals killed at least 129 people in seven locations in Paris, in Europe's worst terrorist attack in at least a decade. France dispatched warplanes to bomb Islamic State's Syrian nerve center while police conducted raids on suspected Islamic radicals in all of France's major cities.
The main U.S. equity benchmark index is now 3.6 percent away from its record set in May, after rising to within 1 percent of the all-time high on Nov. 3. The S&P 500 had fallen in seven of the previous eight sessions after Fed Chair Janet Yellen said policy makers' December meeting was a "live possibility" for a rate increase.
Data Watch
Traders are pricing in a 64 percent probability that the Fed will raise rates next month. Investors will assess data this week on consumer prices, factory activity and housing starts for further clues on the probability of a boost in rates. Minutes from the central bank's October policy meeting will be released on Wednesday. A reading today on New York area manufacturing activity in November contracted more than expected, according to estimates from economists surveyed by Bloomberg.
"This is going to be a market driven by U.S. economic data," said Stephen Wood, who helps manage $265 billion as chief market strategist for North America at Russell Investments in New York. "I think the market is still keeping it's gaze on a December Fed decision."
All of the S&P 500's 10 main industries advanced at least 1.2 percent Monday. Energy, phone companies and consumer staples added more than 1.6 percent. The Chicago Board Options Exchange Volatility Index declined 9.6 percent Monday to 18.16, the most in more than three weeks. The measure of market turbulence known as the VIX jumped 40 percent to a six-week high last week, its biggest increase since August.
Energy companies gained 3.3 percent, the most in more than six weeks to win back more than half of last week's 6 percent drop. Consol Energy Inc. and Williams Cos. were among the best performers in the S&P 500, rising at least 6.3 percent. Consol gained 7.6 percent after Greenlight Capital's David Einhorn reiterated his long position in the company, according to people with knowledge of the matter.
Consumer staples shares in the S&P 500 rose 1.6 percent after falling 2.8 percent last week. Walgreens Boots Alliance Inc. and Tyson Foods Inc. were among the best performers, increasing more than 2.5 percent. Wal-Mart had its strongest increase in more than two months.
Defense Rally
A batch of defense companies climbed in the wake of the Paris attacks. Northrup Grumman Corp., Raytheon Co. and Lockheed Martin Corp. rallied at least 3.5 percent, with Raytheon rising to a record. A proposed $1.29 billion sale of U.S. weapons to Saudi Arabia includes as many as 13,000 smart bombs and spare parts made by Raytheon and Boeing Co., according to officials. Flir Systems, which makes night-vision gear, advanced the most in more than six years.
Constellation Brands Inc. gained 2.3 percent after the wine and vodka maker agreed to acquire Ballast Point Brewing & Spirits for $1 billion. It follows consolidation in the brewing industry, led by Anheuser-Busch InBev SA's planned $107 billion takeover of SABMiller Plc. Boston Beer Co. added 3.8 percent.
Cisco Systems Inc. was among the Dow's best performers, gaining 2.2 percent after posting its biggest slump since August. Hard-drive makers Western Digital Corp. and Seagate Technology Plc also saw a boost after last week's selloff, up more than 2.3 percent.
Airlines Fall
Following Friday's terror attacks, online travel booking companies Priceline Group Inc. and Expedia Inc. fell more than 2.1 percent. Air carriers and cruise lines also slumped -- Carnival Corp. and American Airlines lost at least 1.4 percent to their lowest in more than a month. A Bloomberg index of U.S. air carriers dropped 1.1 percent to its lowest in almost four weeks.
Among other companies moving on corporate news, Starwood Hotels & Resorts Worldwide Inc. sank 3.6 percent after Marriott International Inc. agreed to buy Starwood in a deal valued at $12.2 billion, creating the world's largest hotel company. Marriott gained 1.4 percent.
Urban Outfitters Inc. also retreated on acquisition news, after announcing plans to buy the Vetri Family group of Italian restaurants. The retailer dropped 7.4 percent to its lowest in more than four years.
Before it's here, it's on the Bloomberg Terminal.
LEARN MORE