South Korean Police Detain Dozens in Anti-Government Protests
by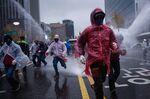 South Korean police fired tear gas and water cannons, and detained dozens of people over the weekend as tens of thousands took to the streets of the nation's capital in a protest rally.
About 130,000 demonstrators from civic organizations and labor unions joined street rallies in central Seoul, protesting against President Park Geun Hye's plan to allow greater leeway to employers to lay off workers and a decision to adopt a state-approved history textbook for high schools, according to a statement posted on the Korean Confederation of Trade Unions' website. The police did not give an estimate for the number of protesters.
"We ended up detaining 49 people from Saturday's protests," Kim Tae Won, a spokesman at the Seoul Metropolitan Police Agency, said by phone on Sunday. "It's hard to figure out exactly how many people participated as multiple rallies happened at once."
One farmer is unconscious after suffering a stroke when he was hit in the chest by a water cannon, while more than 500 demonstrators were injured, the Korean Confederation of Trade Unions said in a statement on Sunday. A second round of protests will be carried out on Dec. 5, the organization said.
Before it's here, it's on the Bloomberg Terminal.
LEARN MORE