Paris Attack Suspects Hunted Across Europe as Probe Widens
by , , and
Police looking for attacker who may have fled from scene

Conflicting information emerging on possible Syrian suspect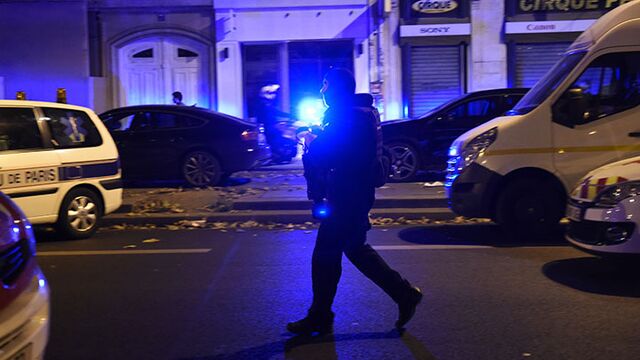 Investigators across Europe are racing to piece together how Friday's attacks in Paris were carried out, with French police so far only publicly identifying one of the suspected assailants as they search for another who may have fled.
Authorities have the remains of seven of the attackers who killed at least 129 people, and are still looking for another individual, a French government official said. The total number who either participated in or supported the assaults is still unclear, the official said, asking not to be identified in line with internal policy.
Police on Saturday night found a car containing Kalashnikov rifles abandoned in Montreuil, just outside Paris, which matched descriptions of a vehicle used in the assault. One of the attackers -- identified by a severed finger at the Bataclan concert hall where 89 people were killed -- was 29-year-old Omar Ismail Mostefai, a French citizen from a Paris suburb, police said. Seven of his family members were arrested in France, while at least five individuals in Belgium were taken into custody in connection with the assaults.
The broadening investigation has high stakes as police try to understand how teams of coordinated gunmen and suicide bombers could strike in the heart of one of Europe's most heavily-policed cities. French President Francois Hollande called the violence "an act of war" by the extremist group Islamic State, which claimed responsibility for it on Saturday and threatened similar attacks to come.
To assist in preventing future incidents, the leaders of the G-20 group of major economies will likely announce stepped up efforts Sunday to cut off financing for terror groups and disrupt recruitment operations, according to two officials familiar with a draft communique. Hollande has skipped the summit in Turkey to focus on France's anti-terror efforts.
"Air strikes will probably intensify in the coming weeks" as France and its allies work to damage Islamic State's bases in Iraq and Syria, Teneo Intelligence, a political risk consultancy, wrote in a note to clients. However, "a large-scale operation with boots on the ground will probably remain off the table," it said. France is currently the only European power conducting major combat operations over both Middle Eastern countries, and Islamic State said the Paris attacks were retaliation for its role.
Conflicting Information
Conflicting information emerged Sunday about the possible identity of a second suspect, highlighting the difficult tasks facing investigators. Serbia's Interior Ministry said one of the suspected assailants, carrying a Syrian passport, had formally requested asylum in the country on Oct. 7 after passing through Greece four days earlier. Belgrade-based Blic newspaper reported the man was a 25-year-old named Ahmad Almohammad.
So far, however, Mostefai is the only one of the attackers who has been positively identified, according to the French official.
Paris prosecutor Francois Molins said three distinct groups of attackers were operating in and around the French capital on Friday night: a trio of suicide bombers at the Stade de France stadium, gunmen who killed 89 at Bataclan, and a third group who drove between nearby bars and restaurants, riddling them with bullets.
Brussels Investigation
Brussels is emerging as a focus of the investigations, with Belgian Prime Minister Charles Michel calling for a stricter crackdown on extremism in the immigrant-heavy Molenbeek neighborhood. The country of about 11 million has the highest per capita number of citizens fighting in Syria or Iraq of any western European state, the London-based International Center for the Study of Radicalisation said earlier this year.
Meanwhile, concerns over the radicalization of members of France's Muslim population, Europe's largest, will intensify if French citizens are found to have played a major role in Friday's events. All three attackers in January's Charlie Hebdo assaults, which killed 17 in Paris, were French-born.
The investigation also has significant implications for European policies toward the hundreds of thousands of refugees fleeing the war in Syria, if attackers posed as asylum-seekers to enter the continent. Right-wing politicians in many European countries have argued that the relatively generous approach advocated by German chancellor Angela Merkel and others could open the door to jihadists.
As a new week approaches Parisians are trying to recover from their city's worst-ever terror attack, in which more than 300 were injured in addition to a death toll that was the largest in Europe since the 2004 Madrid train bombings.
Citizens set up impromptu memorials at locations that were attacked, which were clustered in the multicultural 10th and 11th arrondissements. At the Place de le Republique, a short walk from Bataclan, hundreds lit candles and left notes and signs that read "we weep but never fear" and "books not bombs."
Before it's here, it's on the Bloomberg Terminal.
LEARN MORE