Brussels Neighborhood in Terror Clampdown After Paris Attack
by
Seven suspects from immigrant district of Molenbeek held

French investigators join colleagues in Belgian capital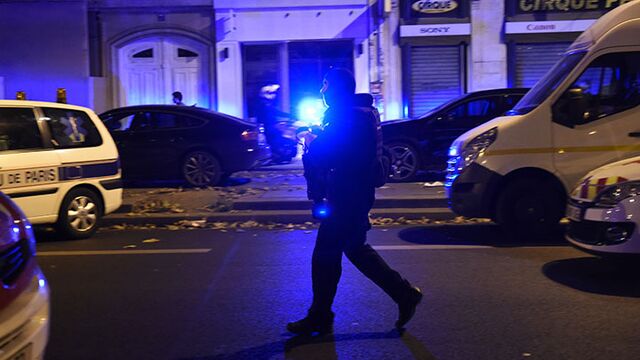 Belgium announced a counter-terrorism clampdown in the Sint-Jans-Molenbeek district of Brussels after seven people with suspected links to Friday's attacks in Paris were arrested in the immigrant-heavy neighborhood.
Two of the killers who died in the Paris attacks have been identified as French citizens living in the Belgian capital, one in Molenbeek, the federal prosecutor's office said Sunday in a statement. Prosecutors declined to reveal the identities of the deceased or the seven suspects because the probe is continuing. French investigators are currently in Brussels, according to the statement.
Belgium issued an international arrest warrant for one of three French brothers linked to the attacks and who resided in the country, Belga reported. One of the men is dead, while the other has been arrested, the news wire said, citing prosecutors.
The Belgian connection emerged on Saturday with news of police raids in Brussels following a tip-off from French authorities who found a Belgian-registered rental car near Le Bataclan concert hall, where 89 people were slain on Friday.
Second Car
Prosecutors said another Belgian rental car near the Pere Lachaise cemetery in Paris may have been related to the attacks. The person who rented one of the cars in the Brussels area was picked up on Saturday in Molenbeek after being subject to police checks of a vehicle heading to Belgium on the French A2 highway near Cambrai at about 9:10 a.m. local time.
Belgian Prime Minister Charles Michel called for a stricter clampdown in Molenbeek, the municipality hosting the largest population of North African descent in the Belgian capital and an apparent hot spot for terrorist activity as shown by its involvement in earlier attacks and foiled plots this year.
"Almost every single time there's a link with Molenbeek," Michel said on VRT television. "Interior Minister Jan Jambon has already taken initiatives against radicalism, against terrorism in a preventive strategy, but we need more forceful action as well."

Radical Islam
Belgium is Europe's biggest per-capita contributor of fighters to Syria and Iraq, according to a report from the London-based International Center for the Study of Radicalisation, leaving its government and police working to avert attacks and prevent the country's youth from falling prey to peddlers of radical Islam.
In January, Belgian police killed two suspected terrorists and arrested a third in a shootout in the eastern town of Verviers, preventing a possible "major" attack. Authorities said the two men killed were originally from Molenbeek, among the country's poorest areas with youth unemployment of 40 percent.
Belgian terrorism also made front-page news last year when four people were killed at the Jewish Museum in Brussels by a French gunman, who authorities said had spent most of 2013 in Syria and prepared his attack from a furnished rental room in Molenbeek.
The Moroccan gunman overpowered by passengers on a Thalys train en route to Paris on Aug. 21 also spent some time in Molenbeek before boarding the train in Brussels with a backpack containing a Kalashnikov rifle, an automatic pistol, ammunition and a knife.

'Rather Lax'
"You have a very high concentration in Molenbeek and that could well be the essence of the story," Interior Minister Jambon said on VRT television. "Moreover, local authorities have been rather lax in this respect for many years."
At a meeting of Belgium's national security council late Saturday, the prosecutor general announced an initiative to work out a strategy for Molenbeek in cooperation with the local Brussels prosecutor, according to Catherine De Bolle, Belgium's national police chief.
Belgian authorities late Saturday raised the terror threat for sports or cultural events drawing large crowds to level 3 or "serious, probable" from "moderate, less probable." That means the government will consider deploying military staff to help police such events on a case-by-case basis, Defense Minister Steven Vandeput told VTM Nieuws.
Before it's here, it's on the Bloomberg Terminal.
LEARN MORE