Refugees in France Fear Islamic State Violence Has Followed Them
At a shelter near Paris, asylum seekers worry about terror attacks on their safe haven.
by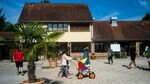 They came to France to escape war in their homelands. Now the Syrians and Iraqis living at a refugee shelter outside of Paris have discovered that the war has followed them.
When news of the terror attacks broke late on Friday, families in the Centre Hubert Renaud, a summer-camp dormitory complex built near the town of Cergy, crowded around the television in the shelter's common room. "Everyone was watching, no one could believe it," said Ahmad al Asoul, 19, who arrived in France from Syria two months ago. Although most speak little or no French, the graphic images of bleeding victims and sidewalks strewn with corpses spoke for themselves. The terror assaults at seven locations in the French capital Friday night left at least 127 dead in what French President Francois Hollande described as an "act of war" by Islamic State.
"Now I am afraid, I see it is dangerous," said al Asoul, who is scheduled to move to the center of Paris in a few days to start intensive French lessons.
The mood at the shelter is "very emotional, terribly sad. France opened its arms to us, and now many innocents have died. We offer our condolences to their families," said Abdul Rahim Haji, a Syrian who has sought asylum here and hopes to bring his wife and three children. Despite the attacks, Haji said he feels safer in France than in Syria. "We have faith in the French authorities," he said.
The dormitory complex, in a lakefront park about an hour's drive northwest of Paris, is currently housing about 100 refugees, mostly men from Syria and Iraq, according to several residents who spoke with a Bloomberg reporter outside the gates. Most of those interviewed said they had arrived in France within the past three months and described conditions at the center as basic and comfortable. Meals are provided, as are supplies provided by the Red Cross and other groups. Volunteers are helping residents with paperwork and basic French lessons. 
Many of those at the shelter want to bring immediate family members to join them in France, which they have the right to do after being granted asylum. "My family is safe right now, but not for long. There are many killings and bombings," said an 18-year-old who had been studying Arabic literature at a university in Damascus before he fled Syria three months ago with his brother. He declined to give his name for fear of reprisals against family members remaining in Syria.
"The presidents of America and France," he said, "must do everything they can to stop Daesh," the Arabic name for Islamic State.
Before it's here, it's on the Bloomberg Terminal.
LEARN MORE