Merkel's Refugee Stance Risks Unravelling After Passport Find
by , , and
`Populists will try to abuse this' after Paris attacks

Mideast security now more in focus for German government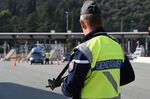 Chancellor Angela Merkel faced renewed pressure over her open-door policy for refugees after a statement from Greek authorities raised the possibility that one of the Paris suicide bombers was a Syrian who entered the European Union posing as a refugee.
A Syrian passport found next to the corpse of the attacker was recorded by Greek officials on the island of Leros on Oct. 3, Deputy Citizen Protection Minister Nikos Toskas said in a statement. Toskas said he didn't know whether the passport was later processed by authorities elsewhere in Europe.
While it's possible that the passport was a counterfeit or illegally obtained on the black market after it was recorded in Greece, any suggestion that the killers gained entry under the auspices of seeking asylum would add to Merkel's dilemma over granting access to those fleeing war zones in the Middle East. Already under fire at home for allowing an estimated 1 million asylum seekers into Germany this year, her policy is at further risk of fraying following Friday's terrorist attacks in Paris that prompted European capitals to go into high security alert.
"Some populists will try to abuse this and say, 'This is what you get when you let people from this region in,"' Jan Techau, director of Carnegie Europe in Brussels, said by phone. In Germany, "the security situation in the Middle East will become a much bigger issue," he said.
With the French capital in shock, President Francois Hollande blamed Islamic State for the killing of at least 127 people in the city on Friday night in what could be further evidence of a shift in tactics by the Islamist terror group from the battlefields of Syria and Iraq to civilian targets in Europe.
If borne out, that pivot to Europe may give fuel to critics of the German chancellor who argue that allowing free entry to refugees risks making it easier for extremists to slip through the security net. Besides the Syrian document, an Egyptian passport was found by the body of another attacker, French BFM TV reported, while a third was a French national known to police, according to Agence France Presse.
For Merkel, the terror struck just as she struggles to rally the German public and her own party behind her refusal to restrict this year's record influx of refugees and migrants. In her first public comments on the attacks, she gave no sign of backing down and suggested that giving in to intolerance would hand the terrorists a victory.
"We believe in the rights of every individual to seek his fortune, in respect for others and in tolerance," she said Saturday in Berlin. "Let us reply to the terrorists by resolutely living our values and by redoubling those values across all of Europe -- now more than ever."
Police in Berlin blocked off the square in front of the French Embassy, steps away from the Brandenburg Gate and the Reichstag parliament building, as Merkel summoned her security cabinet for an emergency meeting to discuss Germany's response to the attacks.
Atocha Bombings
In Italy, one of the two main points of arrival for refugees fleeing to Europe, Prime Minister Matteo Renzi met with intelligence and security officials in Rome and said security would be tightened nationwide.
Spanish Prime Minister Mariano Rajoy called a meeting of his security council in Madrid. Terrorism struck the Spanish capital in 2004, when 191 people were killed by suicide bombers who detonated explosives in backpacks as trains headed into Atocha station.
"There is no cause that justifies yesterday's atrocities nor beliefs that can shelter them," Rajoy said in televised remarks. "We are not in a war between religions but in a fight between civilization and brutality."
In the U.K., Prime Minister David Cameron also convened a meeting to review security. A coordinated attack on London in 2005 left 52 commuters dead after suicide bombers targeted buses and underground trains during a summit of Group of Eight leaders in Scotland. Cameron is due to join Merkel and Rajoy as well as President Barack Obama and Vladimir Putin of Russia at a Group of 20 summit in Turkey starting Sunday. Hollande canceled his attendance immediately after the attacks.
German Worries
German Interior Minister Thomas de Maiziere offered to send special forces to France to help and ordered stepped-up security on German trains and highways and at airports.
While security concerns haven't been at the forefront of Germany's refugee debate, that may now change.
The Paris attacks "seriously raise the stakes for Merkel and her refugee policy," analysts at Eurasia Group in London said in a note. "It will now stir up a debate domestically about whether the government should be more careful about who they are letting in."
Just hours before the attacks, Merkel was on national television defending her stance on refugees, bucking pressure within her party bloc to restrict the number of arrivals. "I'm fighting, fighting for the approach I have in mind," she said in the interview.
Friday's carnage "changes everything," Markus Soeder, a member of the Bavarian state government, said in a Twitter post Saturday. "We can't allow illegal and uncontrolled immigration."
De Maiziere, a longtime Merkel confidant, pushed back. "I'd like to appeal urgently that no one rush to make a connection with the refugee situation," he told reporters in Berlin. "How we deal with the refugee crisis shouldn't be linked in any way to how we deal with terrorism."
Before it's here, it's on the Bloomberg Terminal.
LEARN MORE