European Airports Stepping Up Security After French Attacks
by
Air France flight from Schipol delayed after Twitter threat

Gatwick evacuated as police discover suspicious package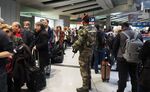 European airport operators and airlines beefed up security Saturday as concerns about Friday's terrorist attacks spread across the region.
Air France said one of its flights from Amsterdam's Schipol Airport had received a threat via Twitter today. All passengers were taken off the plane and authorities did a complete search of the aircraft and its luggage.
The north terminal at London's Gatwick Airport was evacuated for more than seven hours Saturday as police investigated the actions of a 41-year-old man from Vendome, France, who acted suspiciously and discarded something in a garbage bin. An explosives team was called in to investigate and a suspected firearm was removed for examination.
"Given the events in Paris on Friday evening, there is heightened awareness around any such incident and it is best that we treat the matter in all seriousness," said Detective Superintendent Nick May.
Airlines including EasyJet Plc, Air France, British Airways, United, Delta, and American offered passengers traveling to and from the French capital this weekend the option of delaying their journeys free of charge. Aeroports de Paris, which owns Charles de Gaulle airport, warned that passengers may face customs and immigration delays of up to 45 minutes at two of the airport's three terminals.
France has mobilized its military and shuttered cultural and tourist sites in the wake of what French President Francois Hollande has described as "an act of war" by Islamic State. The attack comes 11 months after extremists targeted the offices of the satirical French magazine Charlie Hebdo and amid growing evidence that a bomb downed a St. Petersburg-bound plane two weeks ago, killing all 224 people aboard.
Extra Vigilance
London's Metropolitan Police will be assessing events in Paris and is looking to reinforce security across the U.K., assistant commissioner Mark Rowley said on the BBC.
"People may notice a little change at ports," Rowley said, and "at events in big cities across the country: extra police officers, extra checks, extra vigilance."
Heathrow Airport in London, Europe's busiest hub, said it was operating as usual. Eurostar, which runs rail service from the British capital to Paris and Brussels, also offered customers traveling Saturday the option of changing their bookings to a later date.
Separately, EasyJet said it will operate six more evacuation flights from the Egyptian resort town of Sharm el Sheikh, the starting point of the crashed Russian Metrojet flight. After the U.K. government imposed a ban on flights between Britain and Sharm el Sheikh earlier this month, EasyJet, Thomas Cook and Monarch were among the airlines that canceled commercial flights.
Before it's here, it's on the Bloomberg Terminal.
LEARN MORE