Yandex Takes Google Antitrust Battle to EU After Russia
by
Yandex seeks to unbundle Google services from Android phones

Russia ruled September Google had abused market dominance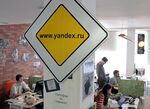 Yandex NV, building on a recent antitrust victory over Google in Russia, said it extended the legal battle to the European Union as it seeks to force its U.S. competitor to unbundle services such as search from mobile devices using the Android operating system in the region.
Russia's largest search engine asked the European Commission in April to investigate what it says are Google's anti-competitive practices. The EU probe also involves similar complaints by the Microsoft Corp.-backed FairSearch lobby group, ad blocker Disconnect and independent applications-store Aptoide, according to Amsterdam-based Yandex.
"We think that the Russian finding of abuse of dominance is instructive, and is a conclusion that can readily be adopted in other jurisdictions, including the EU," Yandex said in a statement on Friday.
Google plans to appeal the Russian decision, said a person familiar with the matter, who was not authorized to speak publicly. The commission has received complaints relating to Android, which it is assessing in the context of the ongoing investigation, said spokesman Ricardo Cardoso.
"Device makers are free to use Android with or without Google applications and consumers have complete freedom to use rival applications," said Al Verney, a spokesman for Mountain View, California-based Google.​
Russia's antitrust watchdog FAS ruled in September that Google, owned by Alphabet Inc., had been abusing its market dominance on Android devices. It ordered the U.S. company to amend agreements with smartphone vendors to allow third-party services such as Yandex search to be installed.
Yandex's business development in Europe will partly depend on the outcome of the EU's investigation, the company said. The share of Russians using Yandex's search fell to 57 percent in September from 62 percent in January 2014, while Google's market share in Russia rose to 32 percent from 27 percent, according to researcher LiveInternet.
"The EC will carry out its own processes," said Alastair Chapman, a partner at Freshfields Bruckhaus Deringer LLP, which represents Yandex in the EU proceedings. "However, given that Google's anti-competitive practices are the same in Europe as in Russia, the Commission will hopefully take note of the FAS decision."
Google is also the target of a five-year European antitrust investigation into its search services. The EU accused the company earlier this year of positioning and displaying its own comparison-shopping service above rivals in its general search. Separately, British mapping rival Streetmap EU Ltd. is suing Google in the London courts for a loss of web traffic it said was caused by Google placing its map program over rivals in search results.
Related tickers:
YNDX US Equity
GOOG US Equity
Before it's here, it's on the Bloomberg Terminal.
LEARN MORE