What to Watch for at the G-20 Summit
by and
Obama and Putin to meet after Russia started bombing Syria

Tackling economic slowdown eclipsed by civil war, refugees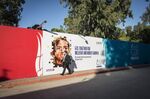 The Turkish coastal resort of Antalya plays host to the Group of 20 summit from Sunday, and puts world leaders next door to one of the biggest crises on their plate.
The G-20's mandate is to foster economic and financial stability and the Turkish government's agenda for the 2015 presidency refers to "strengthening the global recovery" and enhancing market regulation, energy policy and climate change. Yet for many leaders attending, the summit will be dominated by the war in Syria and the outflow of humanity arriving on European shores via Turkey.

Antalya is almost equidistant from the part of the Aegean Sea where Syrians are drowning as they seek safety and Islamic State's territory. In the run-up to the summit, the Turkish authorities have deployed extra police in the city and raided the homes of suspected militants and their supporters. 
Here are a few things worth watching for at the two-day meeting:
The Obama-Putin Dynamic
It's been less than two months since the pair met in New York to discuss the Syrian civil war. Unknown to U.S. President Barack Obama, Russian counterpart Vladimir Putin was planning the country's biggest military campaign outside the former Soviet Union in more than two decades, sending his warplanes in late September to prop up Syrian leader Bashar al-Assad.

At last year's G-20 summit in Brisbane, Australia, Putin left early after being chastised over the conflict in Ukraine and threatened with more sanctions. This time, he arrives as someone Obama and his allies are more likely to deal with. The latest Russian plan, being discussed in Vienna this weekend, is a political transition in Syria lasting as long as 18 months.
In the background is another air disaster. In 2014 it was the downing of a Malaysian flight over Ukraine with the blame falling on pro-Russian separatists. Now it's the investigation into a Russian passenger plane crashing in Egypt and whether Islamist terrorists were the perpetrators.
"There's a need for some cooperation here," said Fyodor Lukyanov, head of the Moscow-based Council on Foreign and Defense Policy, an adviser to the Russian government. "So it's obvious the atmosphere will be different at this summit."
Merkel, Erdogan and Refugees
Angela Merkel is at the forefront of the Syrian refugee drama. 
The German chancellor has been under fire from members of her own caucus for her open-door policy. She needs Turkish President Recep Tayyip Erdogan, emboldened by the party he founded winning back its parliamentary majority, to do more to staunch the flow through his country of not just Syrians, but also migrants from countries including Afghanistan and Bangladesh.

The two met last month in Istanbul, where Merkel dangled the prospect of cash and closer ties with the European Union in return for help with migrants. As he fights Kurdish separatists and Islamic State militants, Erdogan will be keen to show he's the man everyone needs to do business with as the traditional Turkish bridge between east and west.
The refugee problem isn't too big to be solved, said Simone Filippini, chief executive of the Hague-based Cordaid development organization. What's needed is a "coordinated, comprehensive, long-term structured view on the different sides of the issue," she said.
Don't Forget the Economy
When it comes to keeping to the G-20 script, the state of the world economy will hardly provide any respite. Only this week the Organization for Economic Cooperation and Development in Paris lowered its global growth forecast for the second time in three months.
Chinese President Xi Jinping arrives after a slowdown at home that rippled through financial markets this year, while Argentina is on the cusp of meltdown ahead of a Nov. 22 presidential election run-off. The Saudi king might reflect on having to adjust to oil prices remaining below $50 a barrel. Then there's Brazil, where President Dilma Rousseff is clinging to power while trying to navigate a deepening recession and rampant inflation.
One subject for discussion keenly watched by investors is the status of China's yuan as an International Monetary Fund reserve currency, known as Special Drawing Rights, and how it might affect its value. Turkey has urged support for China's inclusion.
Regulating Big Banks
This is an area that will yield something. After years of work, the Financial Stability Board created by the G-20 in response to the global crisis published its plan this week for making sure previously "too-big-to-fail" banks can be wound down and recapitalized without taxpayer bailouts.
The proposals are expected to be green-lighted at the Antalya summit, meaning the world's biggest banks may need to raise as much as $1.2 trillion to meet new rules laid down by financial regulators.
And Finally, Iran Will Loom Large
Iran, which reached a landmark nuclear deal with western powers in July, isn't part of the G-20 but it will be in spirit, not least because of its support of Assad in Syria.
"The nuclear deal showed what international diplomacy and concerted effort could achieve," said Paul Salem, vice president of the Middle East Institute in Washington. "That success in a very difficult issue could be built on to deal with the most critical crisis that's affecting the region and Europe, which is Syria."
Before it's here, it's on the Bloomberg Terminal.
LEARN MORE