U.K. Needs 'Urgent Action' to Keep Banks in London, BBA Says
by
International banks are moving jobs away, cutting investment

Regulations to cut wholesale banking returns to less than 10%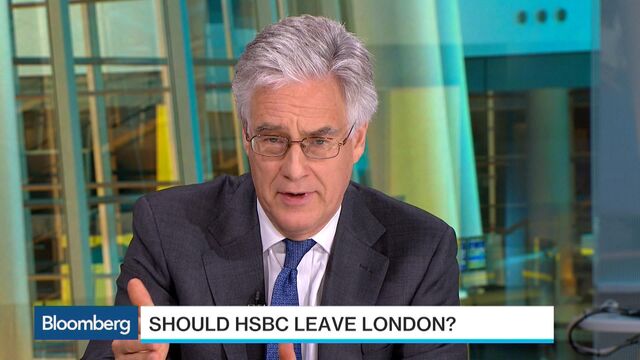 British lawmakers need to take "urgent action" to ensure the U.K. maintains its position as the leading global financial center or risk the departure of banks to cities such as Singapore and Hong Kong, according to the British Bankers' Association.
New regulations, taxes and depressed economic activity in Europe have resulted in an 8 percent drop in British banking jobs, with two-thirds of BBA members saying they've moved business elsewhere since 2010, the lobby group said in a report Friday. The BBA recommends a softening of the law separating retail operations from investment banking, further tax cuts and a reworking of visa limits to make it easier to hire from abroad.
"We have now reached a watershed moment in Britain's competitiveness as an international banking center" and "many international banks have been moving jobs overseas or deciding not to invest in the U.K.," BBA Chief Executive Officer Anthony Browne said in the report. "Wholesale banking is an internationally mobile industry and there is a real risk this decline could accelerate."
'New Settlement'
Chancellor of the Exchequer George Osborne, 44, outlined a "new settlement" for the City of London in a speech in June, pledging to curtail huge fines and amend regulations to "get the balance right." As memories fade of the 1 trillion pounds ($1.5 trillion) of U.K. taxpayer support given to banks amid the 2008 crisis, this year the government has backed down on some issues after lobbying from the BBA, while HSBC Holdings Plc has said it may leave London.
Osborne diluted a levy on U.K. banks and pushed out the regulator's chief misconduct enforcer, Martin Wheatley, and most recently u-turned on a plan to assume senior bank managers are guilty until proven innocent, which lenders blamed for hindering recruitment of top foreign executives.
"We recognize the change of tone in conduct regulation, important developments in the senior managers regime, the proposed reduction in the bank levy, greater certainty over tax for international banks," the BBA said.
Job Losses
Nevertheless, London's financial sector continues to shrink while its rivals grow, according to the report. Compared with 35,000 jobs losses and a 12 percent fall in U.K. banking assets in the past four years, assets in the U.S. have grown by the same percentage, while in Singapore and Hong Kong they have climbed by 24 percent and 34 percent respectively.
European firms are also losing market share to U.S. rivals in wholesale banking, which is the part of banks that cater to large corporates and other financial institutions. From 2010 to 2014, the wholesale market share of the top five European banks fell to 24 percent from 26 percent, whereas the share of the top five U.S. banks has risen to 48 percent from 44 percent, the BBA said.
London is also losing market share in lending and initial public offerings, the BBA said. Wholesale banking's global return-on-equity, a measure of profitability, is expected to fall to an average of 6.5 percent by 2017, about a third of the 18 percent-average between 2000 and 2006, according to the report, co-authored by consulting firm Oliver Wyman.
Osborne's overtures to the industry were counterbalanced by the high cost of ring-fencing -- a law that requires splitting off retail units to protect them from investment banking losses, the BBA said. "Uncertainty arising from the rapidly changing tax regime and European Union referendum are inhibiting business planning and discouraging investment," according to the report.
The BBA's wishlist includes a demand the Chancellor cut the bank levy faster. Under current plans the tax will be reduced over six years and then limited to domestic balance sheets until 2021. The lobby group also wants an 8 percent surcharge on bank profits to be phased out over time.
Financial services is the U.K.'s biggest export industry selling 62 billion pounds abroad every year, and employing more than 405,000 people, the BBA said.
Before it's here, it's on the Bloomberg Terminal.
LEARN MORE