Euro-Area Growth Misses Estimates as ECB Ponders More Stimulus
By and
Germany, France GDP each rose 0.3% in the third quarter

Italy, Netherlands, Portugal miss economist estimates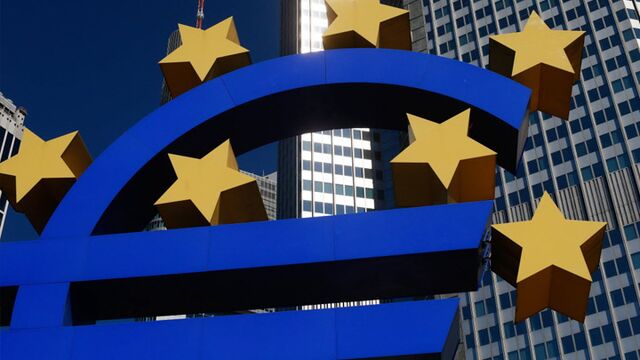 Euro-area economic growth unexpectedly slowed in the third quarter, underscoring the vulnerability of the region's recovery as the European Central Bank examines the need for fresh stimulus.
Gross domestic product in the 19-nation bloc rose 0.3 percent, data showed Friday, down from 0.4 percent in the previous period, which was also the median estimate of economists in a Bloomberg survey. Germany and France's economies each grew 0.3 percent, while Italy's expanded 0.2 percent.
With a slowdown in emerging markets testing the strength of the pick up in the currency union, the data will provide ECB President Mario Draghi with more visibility heading into December's monetary policy meeting. The central banker has signaled additional stimulus is in the pipeline, citing renewed downside risks for growth and the region's inflation outlook, which risks becoming entrenched well below the ECB's goal of 2 percent.
"This miss isn't a screaming disaster, although it adds pressure on the ECB to take action in December," said Alan Clarke, an economist at Scotiabank in London. "Having said that, we don't expect the ECB to use all its ammunition at this stage."
With new signs of weakness, eyes are now fixed on Draghi's next move. Clarke expects the ECB to cut the deposit rate and expand the pace of monthly purchases from the current 60 billion euros ($65 billion), but keep the September 2016 end date for quantitative easing intact.
There is a 95 percent chance that the ECB's Governing Council will cut its deposit rate by 10 basis points in December, taking it to minus 0.3 percent, ECB-dated Eonia forwards show. The euro weakened after the data, dropping toward a six-month low against the dollar. Bonds advanced from Germany and France to Italy.
Breaking down the GDP data by nation showed that German and French output was in line with economist estimates, while figures for Italy, the Netherlands and Portugal fell short of projections in Bloomberg surveys.

The region's output miss comes just a day after Draghi warned that the outlook for core inflation, which removes volatile items like energy, had "somewhat weakened," while noting that downside risks from a global slowdown are "clearly visible," carrying implications for export-driven euro nations.
"The euro-zone recovery is continuing, but it seems like driving with the handbrake on," said Peter Vanden Houte, an economist at ING Bank NV in Belgium. "We believe that the ECB has actually already made up its mind and that today's figures are not strong enough to deter them from going ahead with the intended easing."
China's attempt to transition from an investment boom to consumer-led growth poses risks to export-oriented Germany, itself struggling to raise productivity in an aging society. At the same, record-low unemployment, easy credit conditions and a weakened currency have provided a buffer to consumers and companies.
The German data "does not represent the fundamental cruising speed of the German economy," said Andreas Rees, an economist at UniCredit SpA in Frankfurt. "Anyone who thinks that the development after the summer break marks a turnaround to the worse will soon get a bloody nose. A rebound in exports and industrial activity plus strong internal demand is a pretty decent growth cocktail."
Meanwhile in France, domestic demand contributed 0.3 percent to growth in the quarter as consumers benefit from lower oil prices, boosting disposable income. Inventory building contributed 0.7 percent, while external trade represented a 0.7 percent drag on growth. Corporate investment rose 0.7 percent after a 0.5 percent increase the previous quarter.