Toshiba Drops as Nuclear-Unit Charge Undermines Confidence
by and
Reports question how the company accounted for writedown

Westinghouse booked $1.3 billion in charges over 2012-2013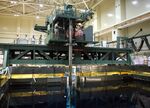 Toshiba Corp., the Japanese industrial group embroiled in a widening accounting scandal since April, slumped in Tokyo trading after reports questioning how the company booked losses at its nuclear power operations over two past fiscal years.
The shares fell 5.9 percent to close at 295.2 yen on Friday, after tumbling as much as 9 percent to the lowest since December 2012 earlier in the day.
Toshiba disclosed on Nov. 7 that its Westinghouse unit booked writedowns on new construction projects and automation services in fiscal 2012 and 2013. Nikkei Business online reported Nov. 12 that the charges totaled $1.3 billion and questioned whether the losses should affect how Toshiba accounts for the overall value of Westinghouse. Kyodo News also reported the total losses.
"The risk to us is that there was more skeletons in their closet," said Mark Newman, an analyst at Bernstein Research in Hong Kong. He cut his rating on the shares to market-perform on Nov. 11 from outperform after Toshiba reported disappointing earnings, including results from the company's NAND flash memory business, he said.
The value of Westinghouse was not impaired by the writedowns and the accounting was accurate, Yu Takase, a spokeswoman for the company, said by phone Friday.
Toshiba has been embroiled in the biggest Japanese accounting scandal since the Olympus Corp. irregularities in 2011. It has had to reduce past profit by at least $1.2 billion after uncovering improper accounting stretching over almost seven years.
Before it's here, it's on the Bloomberg Terminal.
LEARN MORE