Tetangco Says Rising Inflation Limits Philippine Rate Cut Appeal
by
Inflation seen picking up slowly in 2016, 2017 to target range

No urgency to ease as demand is firm, government spending up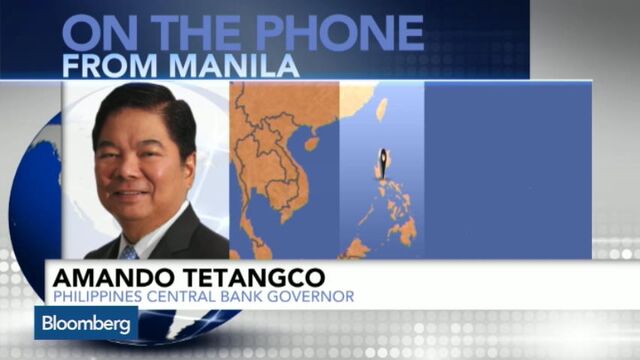 Philippine central bank Governor Amando Tetangco is resisting the temptation to cut interest rates, saying inflation has bottomed and is forecast to pick up slowly in 2016 and 2017.
"There may appear to be room to ease given the low inflation prints in recent months," Tetangco said in an interview with Rishaad Salamat on Bloomberg TV Friday. "But we're seeing current levels as the bottom for now and our expectation is that inflation will rise slowly toward the target range over the policy horizon, which is 2016 and 2017."
Bangko Sentral ng Pilipinas held its benchmark rate Thursday, joining neighbors from Indonesia to Thailand in refraining from easing. Policy makers don't see any urgent need for stimulus as domestic demand remains firm, the government is stepping up spending, and ahead of national elections in May, Tetangco said.
The El Nino weather pattern and possible power-rate increases pose inflation risks, the governor said. Still, weakness in the peso isn't fueling inflation at this point and the central bank has tools such as its presence in the market and macroprudential measures to curb volatility, he said.
"As an inflation targeter, one should look at the policy horizon rather than short-term trends," Tetangco said.
Before it's here, it's on the Bloomberg Terminal.
LEARN MORE