As Bubble Deflates, Startup Investors Are Trying to Cash Out
by , , and
Company founders try to limit share sales by insiders

A cottage industry has emerged to faciliate such transactions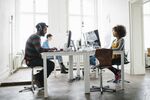 Paul Martino has an unusual strategy for a venture capitalist: He cashes out early, offloading as much as much as 30 percent of his stakes in startups for the right price.
The founder of Bullpen Capital, who booked a gain of more than 5,000 percent on one of his original investments, acknowledges that tech investors have typically held off selling until a startup went public or was bought by a rival.
"This was frowned-upon behavior, but now it's becoming more commonplace," said Martino, whose firm holds stakes in startups including fantasy-sports firm FanDuel. "This is the world we live in now."
With Silicon Valley startups staying private longer these days, investors, company executives and rank-and-file employees are increasingly eager to cash out early. In recent weeks, growing fears of a bubble have given insiders even more incentive to sell their shares. Typically company founders try to limit such transactions, but a cottage industry has sprung up to help facilitate the sales on the quiet.
Facebook Effect
Selling shares early isn't entirely new. Before Facebook Inc. went public in 2012, a secondary market emerged that helped early employees and investors cash out to buy houses, cars or build a nest egg. A network of brokers helped facilitate the private deals, and firms such as DST Global Ltd., run by Russian billionaire Yuri Milner, were eager to amass positions in the growing social network.
After Facebook's experience, many startup founders put more restrictions in place allowing companies to block secondary sales. To keep control over who has a stake in their business, startups are instead organizing their own periodic offerings where employees and early investors can cash out. Martino said startup founders occasionally ask him to sell so late-stage investors can buy in.
The process is needed because founders have less incentive to go public than even a few years ago: There's lots of capital sloshing around, regulators no longer require startups to go public once they've reached a threshold number of investors and it's cheaper to build companies from scratch -- lessening the need to raise funds from the public.
Many of the current crop of promising startups -- among them Palintir, Dropbox, Flipboard -- have reached or surpassed their fifth year of existence. That's when early employees increasingly need the cash, said Mark Dempster, a partner at Founders Circle, which buys officially sanctioned secondary shares.
Life Milestones
"They're getting married, they're having kids, their college loans are due, they're responsible for some older member of the family's healthcare," Dempster said. "Other things happen. Divorce happens. Poor health happens. And here they are sitting on an incredibly valuable currency that's illiquid."
Adding to the anxiousness among those with equity in startups is a drop in valuations for some high-profile companies. Fidelity cut the valuation of Snapchat Inc. by about 25 percent in the third quarter, BlackRock Inc. trimmed the value of storage-company Dropbox Inc. and payments company Square Inc. is seeking an IPO market capitalization that's significantly lower than its valuation as a privately held company.
There's no shortage of eager buyers attempting to buy a stake in a hot startup. Some aspiring investors even cold call insiders asking to buy shares.
Strong Demand
"I get probably 10 emails a week from people way out of the Valley, very different professions, nothing to do with the Valley: 'Hey, I know you're an investor, can I buy some of your shares?"' says Sam Altman, president of Y Combinator, an early-stage investor of hundreds in startups. He always says no.
(The Y Combinator startups' backers include Willett Advisors, the investment arm for the personal and philanthropic assets of Michael R. Bloomberg, the founder of Bloomberg LP.)
Most big-name Silicon Valley startups have organized secondary stock sales for employees, founders and investors. Even at Uber Technologies Inc., where secondary sales have been strictly prohibited, CEO Travis Kalanick said recently that he'd consider creating a process for early employees and investors to sell some shares.
These kinds of internal sales are tightly circumscribed, allowing employees to sell 10 percent to 20 percent of their shares, often at a predetermined price based on the company's most recent valuation. (Early investors typically can sell as much as they want.)
Forward Contracts
But organized sales clearly aren't meeting all the demand to cash out. Many employees and investors are finding other ways to sell shares on their own. Several companies have sprouted up to help find buyers for their shares. EquityZen, based in New York, offers "forward contracts," where an employee trades the rights to their stock in exchange for cash now. The company sends out regular e-mails offering stock in companies such as Spotify, AppDyanmics and Chartboost. The sellers "get the cash they are looking for," said Chief Executive Officer Atish Davda said in an interview.
More traditional financial institutions also are participating in the secondary market, with mutual funds, hedge funds and asset managers like BlackRock Inc. occasionally buying shares this way. Last month, Nasdaq bought Secondmarket Solutions Inc., the operator of a software platform that helps facilitate the sales of shares in private companies.
"The market has really evolved tremendously," Secondmarket CEO Bill Siegel says.
A bill making its way through Congress would further legitimize the market by deregulating resales of private-company shares, allowing startup employees, managers and investors who have the consent of the company to sell their shares to any wealthy investor who wants to buy them.
More evidence that the secondary market is getting bigger: the increasing propensity for Valley VCs selling early. Since 2011, there have been at least 157 transactions valued at $2.64 billion in which a venture capital firm sold its stake in a startup, according to Pitchbook, a researcher that pulled the data from public filings and news reports. That's up significantly from 2005-2010, when $449 million worth of transactions occurred, according to Pitchbook.
Dave McClure, an early investor in startups including CreditKarma and Twilio, said it can be painful to cash our early when you see a company's value increase later. Yet he's done it several times because it's a "prudent step."
"Bears make money, bulls make money, pigs get slaughtered," he said. "There's no reason to be a pig."
Before it's here, it's on the Bloomberg Terminal.
LEARN MORE