Obama Offers Aid to France After 'Outrageous' Paris Attacks
by and
President calls shootings, explosions an attack on humanity

No specific or credible threat to U.S. seen by officials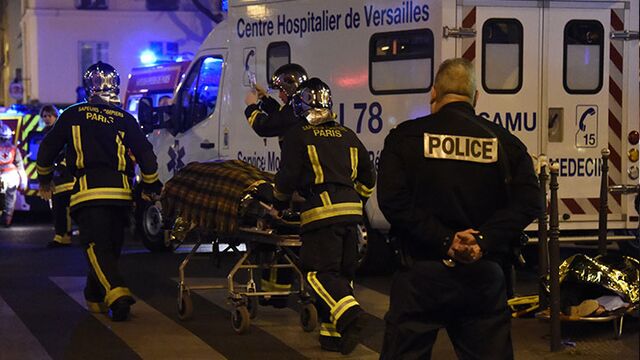 President Barack Obama offered assistance to France after terrorist attacks in Paris killed more than 100 people Friday night even as officials said there's no specific threat to the U.S.
"We've seen an outrageous attempt to terrorize innocent civilians," Obama told reporters in Washington. "This is an attack not just on Paris, an attack not just on the people of France, but this is an attack on all of humanity and the universal values we share."

At least 120 people were killed during multiple acts of violence in Paris, French prosecutors said. Many were killed at a concert hall.
The attacks unfolded in what appeared to be coordinated fashion across the French capital. Explosions were reported outside the city's main sports stadium as the French and German national soccer teams met in a friendly match. Gunfire broke out near a restaurant in the 10th arrondissement.
Well Planned
U.S. law enforcement officials are concerned that the attacks were well-planned, an American counterterrorism official said. There's nothing to suggest that an assault against the U.S. is imminent, but France didn't appear to have any warning, said the official, who spoke on condition of anonymity.
If Islamic State is found to have carried out the Paris slaughter and the downing of a Russian airliner over Egypt two weeks ago, that would signal the group has evolved into a more sophisticated terrorist force that can carry out strikes beyond the Middle East, the official said.

The president was first informed about the attacks by his counterterrorism adviser, Lisa Monaco, a White House official said Friday. He still plans to travel to Turkey on Saturday for the G-20 summit.
Hollande Evacuated
Obama spoke by phone with French president Francois Hollande, who was evacuated from the stadium after the explosions. Obama offered condolences and support for the French investigation, the White House said in a statement. The two leaders said they'd work together to combat terrorism.
It was the second call of the day between the two leaders. Before the attacks, the pair discussed the upcoming United Nations climate negotiations, scheduled to begin at the end of the month, which Obama plans to attend.
"We're going to do whatever it takes to work with the French people and with nations around the world to bring these terrorists to justice, and to go after any terrorist networks that go after our people," Obama said in his remarks from the White House.
Hollande declared a state of emergency and said he was tightening controls at France's borders. He also requested military reinforcement.
The U.S. Department of Homeland Security and Federal Bureau of Investigation are closely monitoring events in Paris and know of no specific or credible threats of an attack on U.S. soil of the type that occurred in the French capital, Homeland Security Secretary Jeh Johnson said in a statement.
'Planning, Casing'
For now, no new counterterrorism measures are planned at U.S. airports or federal buildings, according to an American official, who discussed security planning on condition of anonymity.
The Paris attacks demonstrated a "relatively high degree of planning, casing and prep," said Patrick Skinner, director of special projects for the Soufan Group, a New York security consulting firm.
"This wasn't a response to Jihadi John," Skinner, a former Central Intelligence Agency case officer, said in an interview. "This took time."
U.S. law enforcement and intelligence agencies are working in concert to determine if the attacks in France are part of an international terrorist campaign, said Representative Peter King, a New York Republican and member of the House intelligence committee, in an interview.
"This is the nightmare scenario for any large city, with a large population, these types of coordinated attacks," King said. "This was undoubtedly carried out by Islamists, most probably" Islamic State.
NYPD Role
The U.S. embassy in Paris was "making every effort to account for the welfare of American citizens in the city" and pledged that the U.S. would provide whatever support France might require, said Secretary of State John Kerry, in a statement from Vienna where he is taking part in talks on Syria's civil war.
As a precaution, the New York City Police Department said it deployed officers to French government locations in New York City and to other areas where large numbers of people congregate. The department's intelligence bureau detectives in France are helping police there as needed, the NYPD said in a statement.
In Washington, U.S. Capitol Police are monitoring events in Paris and there may be additional patrols, police spokeswoman Kim Schneider said in an e-mailed statement. 
The French ambassador to the U.S., Gerard Araud, said in a Twitter message that he's "sad, devastated and anguished for my country."
'Jihadi John'
The attacks came hours after the White House acknowledged the U.S. had launched a strike targeting Mohammed Emwazi, an Islamic State extremist known as "Jihadi John." The ISIL leader became infamous internationally from his appearance in videos showing the beheadings of Americans held by the terrorist group.
The White House earlier Friday said the strike, in which Emwazi is presumed to have been killed, was evidence the U.S. had made "important progress" in the fight against the Islamic State.
The president is scheduled to travel to Turkey on Saturday for the G-20 economic summit, where leaders say they will discuss efforts to combat the Islamic State.
Obama plans to meet with Turkish president Recep Tayyip Erdogan on Sunday to discuss efforts to combat the Islamic State, according to deputy national security adviser Ben Rhodes. Later that evening, G-20 leaders are scheduled to discuss the international campaign against the terror network.
Before it's here, it's on the Bloomberg Terminal.
LEARN MORE