Mylan's Hostile Bid for Perrigo Fails
By
Drugmaker can't make new approach for at least a year

Perrigo shares slide, Mylan rises after report of failure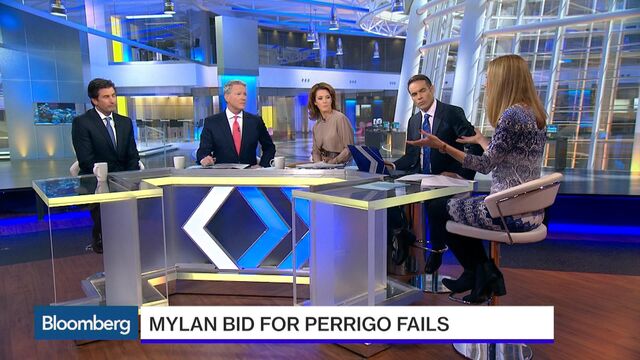 Mylan NV failed in its $26 billion hostile bid for Perrigo Co. on Friday, falling short in its biggest attempt yet to join the wave of consolidation sweeping the generic drug industry.
Shareholders of the Dublin-based over-the-counter drug maker tendered only about 40 percent of their shares to Mylan by the Friday deadline, and half were required for a deal to move forward. Mylan offered $75 in cash and 2.3 Mylan shares for each Perrigo share, which Perrigo had called inadequate.
Mylan shares rose as investors concluded the drugmaker was better off without Perrigo. Now Mylan Executive Chairman Robert Coury can pursue a more appealing target as rivals such as Teva Pharmaceutical Industries Ltd. spend billions to add heft in generics. Teva agreed in July to buy Allergan Plc's generic operations for $40 billion, underscoring a record year for dealmaking in the health-care industry.
"Mylan viewed Perrigo as a unique and exciting opportunity, but not one that was required for the future success of our company," Coury said in a statement announcing the offer's failure. "We are well-positioned to quickly execute on the next strategic, value-enhancing opportunities for our business, some of which we have already identified."
Perrigo shares slid 5.5 percent to $147.98 at 2:08 p.m. in New York. Mylan shares rose 14 percent to $49.38. Mylan now can't try to buy Perrigo again for a year.
"We're delighted with the results," Perrigo Chief Executive Officer Joe Papa said in an interview with Bloomberg. "The support we've received has been outstanding."
'Better Off'
While Coury had promoted the deal as a logical step in Mylan's strategy, advisory firm Institutional Shareholder Services had warned that the acquisition wouldn't be profitable for Mylan in the first three years after completion.
"Mylan was better off without Perrigo so I think it's a good thing for them," Louise Chen, an analyst with Guggenheim Securities, said in an interview. Chen has a neutral rating on Mylan shares. "It seems like they'd be interested in generics deals, this is something they've always kept as their core strategy. They've remained one of the pure-play generics companies."
Coury, through a spokesman, declined to be interviewed.

Perrigo, likewise, has said it too plans to go its own way and look at deals.
"I don't want to put anything off limits," Papa said, when asked if he'd consider a large-scale deal. "We will look at things that make sense."
The company said it will go ahead with a previously announced $2 billion share buyback, and plans to repurchase $500 million of its own shares by the end of the year. Papa said the company could hold off on doing the rest of the buyback if the company found a better use for the cash.
"We'll likely look at things that are consumer-facing as certainly a leading area of interest," Papa said. Most of Perrigo's sales come from that segment of the market, which includes cough and cold remedies, allergy medicine and other products that can be bought without a prescription.
Mylan wanted to add those types of drugs to its lineup as EpiPen, its allergy medication, faces generic competition as early as next year. Mylan initially argued that the Perrigo deal was a better alternative than accepting a takeover offer from Teva. Teva later walked away from a deal with Mylan in favor of buying Allergan's generics business.
Mylan was overpaying for Perrigo, Ronny Gal, an analyst at Sanford C. Bernstein & Co., said in a note before the official results were released. A failed bid frees up executives to focus on better moves such as share repurchases or acquisitions of the generic assets of Sanofi or Pfizer Inc., he said.
Industry Consolidation
The Perrigo acquisition would have added to sweeping changes in the drug industry as manufacturers and distributors use mergers to gain leverage in negotiations over price. While Mylan and Teva sought to grow larger through acquisitions, Walgreens Boots Alliance Inc. struck a deal to buy fellow drugstore chain Rite Aid Inc., and CVS Health Corp. agreed to take control of Target Corp.'s pharmacies and clinics.
Those other deals are still awaiting clearance from regulators. Mylan won U.S. antitrust approval for the Perrigo bid after agreeing to sell rights to seven generic drugs to resolve claims that the purchase would harm competition.
To defend itself, Perrigo had raised questions about whether Mylan acts in the best interests of its shareholders. The generic drugmaker, based in the Netherlands and run from Canonsburg, Pennsylvania, said it would ask its shareholders to vote on changes to its corporate governance, including the nomination and election of directors, if it were to complete its bid for Perrigo.
Mylan also said last week that it would propose a shareholder vote on whether to retain a Dutch structure known as a stichting, an independent foundation that can help block takeover attempts. It didn't specify what changes it would make on board elections. It's unclear whether the company still plans to revise its corporate governance if the Perrigo bid fails.