London's Salon QP Is a Watch Fair for Everyone
No free-flowing Champagne or million-dollar timepieces. Just good watchmaking and the people who love it.
by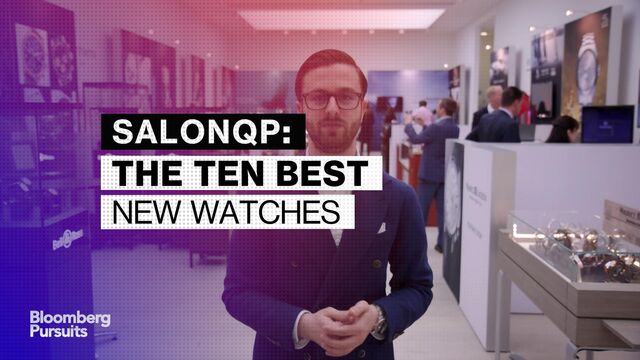 Trade shows in the wristwatch world tend to be opulent events populated by retailers and journalists, mostly closed to the outside world (the actual customers). They are less about celebrating modern watchmaking and more about straight commerce. Think of London's Salon QP as the people's watch show.
Every November, all art is cleared from the Saatchi Gallery, and watchmakers move in. QP, a watch trade magazine owned by the Telegraph newspaper, plays host to such household names as Tudor and Montblanc and to niche brands like Urwerk and Habring2. They all set up booths for three days.

"What makes QP special is that it's a public event," said Timothy Barber, who edits QP Magazine and organizes the show. "You can pick up the watches, talk to someone like Kari Voutilainen, you can get up close with this stuff. It's fun. It's not too pretentious."
Baselworld's three-story booths and marble facades are absent, and there's no free-flowing Champagne as at Richemont's SIHH fair. Everything is relatively understated and accessible. No secret appointments, no pretension, and often the person you end up speaking with is the owner of the company, a watchmaker, or at the very least, an executive.
It all sounds romantic and idealistic, but there's an obvious upside for the brands to connect with customers in this fashion.

"We sell watches directly to clients; we don't deal in intermediaries" says Alexandre Meerson, who launched his eponymous brand last year at Salon QP. "This is really the only show where there is the right crowd of connoisseurs and where we can share who we are."
A few brands will offer new releases. These are mostly low key additions to core product offerings. (Read: watches people buy, not showstoppers that grab headlines.) In addition to brand exhibitions, this year's visitors can check out the full honor roll of Grand Prix winners, a display of colorful gem-set watches, and an historical overview of the chronograph.
Salon QP, at the Saatchi Gallery in London, will be open to the public on Friday, Nov. 13, and Saturday, Nov. 14. You can get all the details and purchase tickets here.
Before it's here, it's on the Bloomberg Terminal.
LEARN MORE