Islamic State Ousted From Iraq's Sinjar in Key Kurdish Victory
by
Militants had held town for about a year amid atrocity claims

Offensive began with support from U.S.-led airstrikes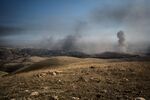 Kurdish Peshmerga forces drove Islamic State fighters from the center of the northern Iraqi town of Sinjar on Friday, a significant advance in a campaign to regain territory seized by the militant group.
"ISIL is defeated and on the run," the Kurdistan Region Security Council said in a statement. A 100-meter-long Kurdish flag was displayed in Sinjar, which appeared deserted and severely damaged in footage aired by local television. The Kurds said its hospital along with factories and several public buildings were all cleared of jihadists, while Kurdish combat engineers worked to remove explosive devices.

Thousands of Kurdish fighters, backed by U.S.-led airstrikes, began a major offensive to push Islamic State from Sinjar early Thursday. They also retook parts of nearby Highway 47, used by the group to move fighters and supplies over the 300 miles (480 kilometers) between its de facto capital in the Syrian city of Raqqah and Mosul, its main stronghold in Iraq.
U.S. and Kurdish military officials said the campaign to free Sinjar would be a critical first step toward an assault on Mosul.
Yazidi Abuse
As Islamic State swept through northern Iraq last year, it forced members of the Yazidi religious minority it considers apostates to flee into the mountains around Sinjar. Human-rights monitors accused the militants of systematic rape and other acts of sexual violence against thousands Yazidi women and girls.
"ISIS terrorists have committed grave crimes in Syria and Iraq, but the most barbaric and heinous crimes were committed in Sinjar," Kurdistan Region Prime Minister Nechirvan Barzani said in a statement. Reconstruction and development of the Sinjar area and delivery of public services will be the regional government's top priority, he said, asking for help from the international community.
'Sinjar Liberated'
The president of Iraq's Kurdish region, Massoud Barzani, speaking in a news conference on the top of Sinjar mountain, a center of Yazidi tradition, thanked the international coalition and U.S. for their assistance.
"Sinjar is liberated by the Peshmerga," he said. "I congratulate the people of Kurdistan, especially the Yazidis. We have delivered on our pledge."
Sinjar lies outside the main Iraqi Kurdish enclave and is part of the so-called disputed territories, land claimed by both the Iraqi federal government and the semi-autonomous Kurdistan Regional Government or KRG. It's also located near a Kurdish part of Syria.
Yazidi militias took part in the operation to free Sinjar, as did members of the Syria-based Kurdish separatist group YPG, and fighters of the PKK, which fights for Kurdish autonomy in Turkey's southeast.
While the liberation of Sinjar marks a battlefield success, it isn't necessarily a step toward greater Kurdish unity, according to Fabrice Balanche, director of a Middle East group at the University of Lyon and a visiting fellow at The Washington Institute.
"Barzani would like to control Sinjar and with the help of the American airstrikes he succeeded in liberating the city," Balanche said. "But there is no geographical continuity between Sinjar and the KRG, and Baghdad doesn't want there to be," he said. "And there is competition between the different Kurdish groups as well."
Before it's here, it's on the Bloomberg Terminal.
LEARN MORE