business
How China Helped Spur the Global Art Boom
Some stunning numbers.
By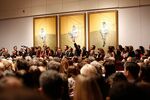 When Chinese wealth accelerated, so did global art sales.
The emerging economy has gone from not even registering on the global art sales spectrum to accounting for more than a quarter of total sales and is number two only to the U.S., according to a new 60-page report from Citigroup and its private bank.

According to Citi, China's art market began in earnest around 1996 and "remained in an early development state" until the mid-2,000s. But from 2009 to 2011, sales grew from $3 billion to $13 billion in just two years. In percentage terms, it was a staggering 355 percent increase, and one that briefly put the Chinese art market on a par with that of the U.S.
Citi says that Chinese wealth has played a not-so insignificant role in the art market's ascent. Not only were the Chinese wealthier, but they tend to hold a higher portion of their wealth in "art and antiques." In fact, Citi says that while the average global holdings of assets such as art, antiques and jewelry is less than 10 percent, wealthy Chinese individuals boast an average of 17 percent.
The reason could lie in China's regulatory environment, which limits investment options.
So with rising wealth and fewer places to store it, art was one of the go-to areas. 
Suddenly flush with cash, the affluent turned to art as a way to diversify their assets. This movement was compounded by a similar search for alternative investment vehicles by high net worth individuals around the world who had been left reeling by the global economic collapse. With the Great Recession affecting most Western economies in 2008 and 2009, the appeal of once-reliable investments, such as real estate or equities, was greatly diminished, generating a new appetite for investing in art.
In fact, if not for China, growth in the art market would have been much slower.
The country accounted for one third of the market's increase from 2000 to 2014, roughly the same as the U.S.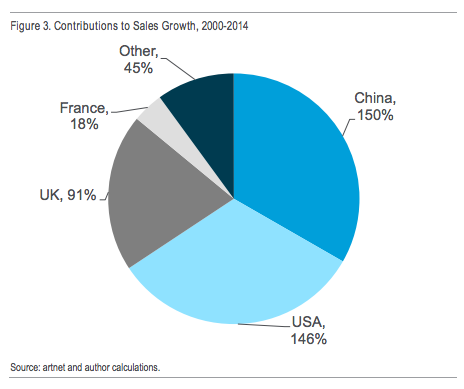 In that respect China's impact on the art market looks a lot like its impact on other global markets, as Izabella Kaminska at FT Alphaville points out; a savings glut seeking investment opportunities has simply found its way into Lucian Freud paintings rather than U.S. Treasuries or precious metals. The flipside to this rapid growth is that the art market could slow as Chinese demand wanes.
Here's Citi again:
... The expansion of the Chinese market has been characterized by explosive growth in the quantity of art sold, which is a common feature of the early stages of art market development. As the market matures – and there is evidence to suggest that China has reached close to its 'equilibrium' size in the world market – the growth in quantities will moderate, removing what has been a large tailwind to global growth. More concretely, if the only change in the art market through 2030 was that auction lots sold in China grew at the rest of the world's historical growth rate, then annual sales growth of the global market would decline by 2.3 percentage points, or 18 percent, to 10.7 percent ...
Global art collectors, consider yourselves warned.
Before it's here, it's on the Bloomberg Terminal.
LEARN MORE