Ferragamo Falls After Signaling Sales, Profit May Miss Estimates
by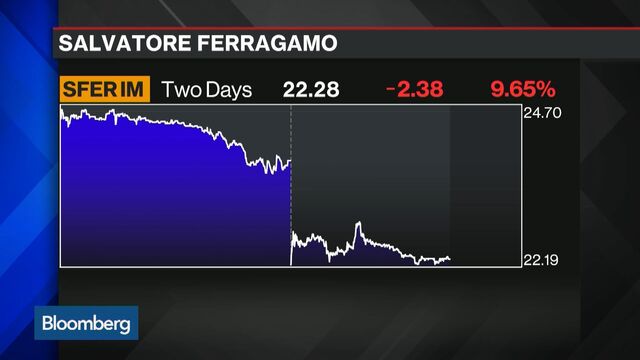 Salvatore Ferragamo SpA fell as much as 8.1 percent after the Italian luxury shoemaker said full-year sales and profit may miss analysts' estimates amid weak demand in the U.S. and Hong Kong.
"Certainly it is quite challenging to reach the consensus, but it is something that we have in mind," Chief Executive Officer Michele Norsa said on a conference call. He said the consensus is earnings before interest, tax, depreciation and amortization of 315 million euros ($340 million) on revenue of 1.42 billion euros. "We live in a very volatile environment."
Ferragamo's third-quarter results missed analysts' estimates on Thursday, following a steeper-than-expected slowdown in North America where the Florence, Italy-based shoemaker got almost a quarter of sales in the first nine months of 2015. Luxury rivals Hermes International SCA and Burberry Group Plc also posted sputtering sales growth in America as stock market volatility and a strong dollar curbed local and tourist demand.
Ferragamo's above-average exposure to the region means "it has been impacted a bit more than peers by worsening market conditions in the U.S. during the summer," said Rogerio Fujimori, an analyst at RBC Capital Markets in London. "The absence of Russian tourists in Europe has also been unhelpful and further deterioration in Hong Kong should not come as a surprise to anyone."
The shares were trading 5.1 percent lower at 22.66 euros as of 9:21 a.m. in Milan.
The slowdown in the U.S. adds to the difficulties luxury-goods makers are facing from a slump in Asia. Globally, the market for personal luxury goods is set to post its worst year since 2009, according to Bain & Co.
Ferragamo said trends in mainland China have improved in October.
Before it's here, it's on the Bloomberg Terminal.
LEARN MORE