DraftKings, FanDuel Go on Offense Against New York Top Cop
by , , and
New York attorney general says sites promote illegal wagering

Fantasy sites accuse Schneiderman of overreach, bullying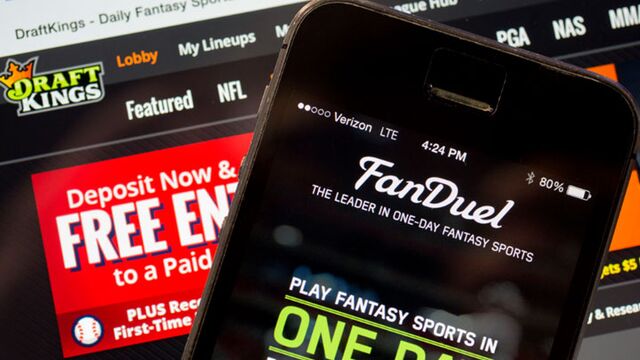 FanDuel Inc. and DraftKings Inc. are betting a judge will see fantasy sports as games of skill, rather than illegal gambling operations that New York's attorney general is determined to shut down.
The two biggest daily fantasy sports sites are taking on Eric Schneiderman in court, accusing him in lawsuits of bullying and abusing his powers in ordering that they stop operations in New York and are seeking a judge's order to let them keep operating. In the meantime, though, FanDuel says it will stop taking new deposits from players in New York.
New York is integral to DraftKings and FanDuel, which are valued at more than $1 billion each and have drawn investors across the sports, media and venture-capital industries. The state accounts for 5 percent of FanDuel's customers and more than 7 percent for DraftKings, according to the companies' filings. If both companies were to lose their customers in the state, it would cost them an estimated $35 million in annual revenue.
"Such a shutdown would deprive hundreds of thousands of subscribing New Yorkers of the opportunity to pit their skills against the skills of others in selecting a 'fantasy' team of athletes from different sports teams and competing in contests offering prizes to the players whose fantasy teams perform best," FanDuel said in its complaint, which seeks a quick ruling that its contests don't constitute gambling or bookmaking under New York law.
Business Disruptions
Schneiderman's order disrupted the business and the attorney general has pressured payment processors to stop providing the companies service unless they suspend their New York operations, according to the lawsuits, filed separately in New York state court.
The attorney general's staff "contacted DraftKings' business partners, threatening to take action against them unless they immediately ceased performing services for DraftKings in New York," the company said in its petition.
Court orders are needed to "bar the attorney general from continuing to abuse his power and to prevent the irreparable harm that will result from it," DraftKings said.
"DraftKings will continue to operate in New York while we pursue all legal options available to prevent the New York Attorney General from denying our customers their right to play the games they love," the company said in an e-mailed statement.
Responding to those allegations, Matt Mittenhal, a spokesman for the attorney general, said in a statement on Friday that "anyone who asks us about the legality of online sports betting will be told exactly what we wrote in our letters."
The companies "are operating illegal gambling operations," Mittenhal said. "It should come as no surprise that companies associated with DraftKings or FanDuel are actively reviewing this matter in the context of business decisions."
Schneiderman said in an earlier statement Friday that he will "take action to enforce state law," without providing more specifics on the nature or timing of his next steps.
Four smaller operators said Nov. 11 they will block New York users from entering their paid contests. The four are: TopLine Game Labs LLC, which operates fantasy site DailyMVP; Draft Day; DraftOps; and MondoGoal Trading Ltd., an international platform focused on soccer.
New Deposits
FanDuel posted a notice on its website Friday notifying users located in New York that they won't be able to make new deposits.
"The situation is developing and we will continue to keep you all updated on any changes, while we pursue our day in court," the company said.
New York's order is the latest in a growing list of state bans as legislators, regulators and law enforcement continue to scrutinize the industry. Arizona, Iowa, Louisiana, Montana and Washington already forbid DraftKings and FanDuel from operating. Last month, Nevada said the the daily sports pools are gambling and need casino licenses to do business there.
Pennsylvania and New Jersey legislators are debating whether to regulate the games, which for now operate unhindered in both states; and Massachusetts Attorney General Maura Healey is investigating the industry with an eye on consumer protections, her spokeswoman Cyndi Roy Gonzalez said in a Nov. 10 statement.
In letters to DraftKings and FanDuel, Schneiderman highlighted their omnipresent advertising, which "continues to promote DFS like a lottery, representing the game to New Yorkers as a path to easy riches that anyone can win."
Those messages, Schneiderman said, are a tacit admission that daily fantasy sports constitute "games of chance," which are considered gambling, and not "games of skill" as the companies contend.
If that determination withstands scrutiny by a judge, it could potentially expose fantasy sports executives to the possibility of criminal action and prompt investors and sports organizations to distance themselves from the business, legal experts said.
Boston-based DraftKings and FanDuel, based in New York, have expanded rapidly, raising hundreds of millions of dollars from investors including Time Warner Inc. and KKR & Co. on the premise that their contests are legal.
Fan Favorite
FanDuel on Nov. 10 reiterated that assertion and said Schneiderman is "a politician telling hundreds of thousands of New Yorkers they are not allowed to play a game they love."
Daily fantasy sports customers pay entry fees and pick rosters of real-life athletes in the hope of winning millions of dollars in prizes. Schneiderman began a review of the businesses after first looking into allegations that a DraftKings employee used inside information to win $350,000 on FanDuel. A law firm hired by DraftKings concluded the employee did nothing wrong.
The case are FanDuel Inc. v. Schneiderman. 161691/2015. New York State Supreme Court (Manhattan) and DraftKings Inc. v. Schneiderman. 102104/2015. New York State Supreme Court (Manhattan).
Before it's here, it's on the Bloomberg Terminal.
LEARN MORE