Five Things Everyone Will Be Talking About Today
Time to get caught up on what matters in markets
by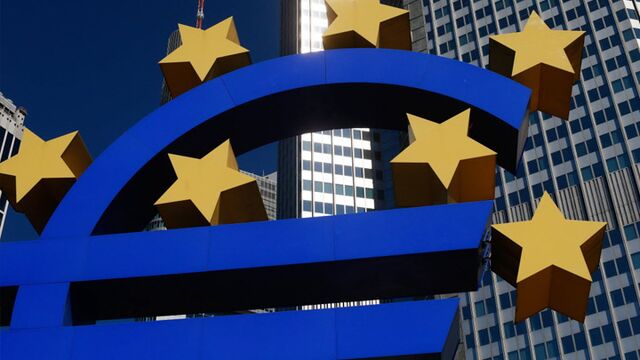 Euro-area growth disappoints, China tries to prevent a bubble, and downward pressure on oil continues to grow. Here are some of the things people in markets are talking about today.
Euro-area GDP disappoints
Growth in the Euro-area unexpectedly slowed to 0.3 percent in the third quarter, below expectations for a repeat of the second quarter's growth rate of 0.4 percent. At the national level, growth in France and Germany matched expectations. On the flip side Italy, the Netherlands and Portugal all missed expectations. Euro sovereign bonds rose after the data release as investors now see an increased likelihood of further easing by the European Central Bank at its December meeting. 
China raises margin requirements
In a move designed to contain leveraged wagers on its stock market, China will raise margin requirements to 100 percent from 50 percent, starting Nov. 23. In other words, a client putting up 1 million yuan ($156,895) will be able to borrow a further 1 million yuan for trading. Previously they could borrow as much as 2 million yuan. Following from yesterday's disappointing lending data, the China Banking Regulatory Commission released data showing that troubled loans at Chinese banks had risen to 4 trillion yuan by the end of September. The Shanghai Composite Index dropped 1.4 percent to 3,580.84, with the market closing before the new margin requirement rules were released.
Further pressure on oil
The International Energy Agency has warned there is potential for the rout in oil prices to deepen as stockpiles of the commodity reach a record of nearly 3 billion barrels. The organisation added that the return of Iran will intensify price competition, with Europe acting as the battleground for the country and other sour crude producers including Russia, Iraq, and Saudi Arabia. West Texas Intermediate futures have lost 5.4 percent this week with WTI for December delivery at $41.89 a barrel on the New York Mercantile Exchange, up 14 cents, at 11:02 a.m. London time.
Fed fallout
The dust has settled on yesterday's round of Fedspeak and the main takeaway is that policy makers at the U.S. central bank are trying to move the conversation on to the pace of tightening, rather than the timing of the first interest rate hike. Market expectations of a rate rise in December have fallen slightly to 66 percent, although it seems remaining data would have to come in very weak to stay the committee's hand. Federal Reserve Vice Chairman Stanley Fischer concentrated on the strength of the U.S. dollar in his speech, cautioning that the effects of the greenback's rise on U.S. growth could persist. He did not indicate how strong the currency, which has gained 10 percent against the euro this year, would have to become for him to vote against tightening in December.
Coming up..
U.S. retail sales data is due for release at 8:30 a.m. ET this morning, with expectations for a headline increase to 0.3 percent. Then at 10:00 a.m. the University of Michigan Consumer Sentiment Index is published. Strong data will increase expectations for a rate hike by the Federal Reserve in December, and likely extend U.S. government securities' dismal performance this month.
What we've been reading
This is what's caught our eye over the last 24 hours.
Want to receive this post, and more, into your inbox every morning? Sign up here 
Before it's here, it's on the Bloomberg Terminal.
LEARN MORE