Fact Check
Did Ted Cruz Actually Support Legal Status for Undocumented Immigrants?
An amendment he proposed that seemed to offer legal status to undocumented workers may have been intended as a poison pill.
By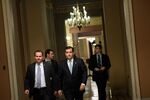 Under fire from Senator Ted Cruz for fighting "tooth and nail to try to jam [immigration] amnesty down the American people's throat" in 2013, Senator Marco Rubio retorted Thursday by arguing that the Texas senator has also backed legal status for undocumented immigrants.