BOJ Signals It Wants to Keep More Profits to Shore Up Capital
by and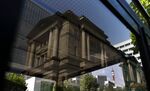 The Bank of Japan signaled a desire to increase its reserves, a step that would provide a greater cushion against any eventual losses stemming from its unprecedented monetary expansion.
Japan's central bank -- which enlarged its balance sheet by the equivalent of about 17 percent of the economy over the past year -- asked in a letter to the Ministry of Finance for the government to consider a policy dealing with profits from the program. The Nikkei newspaper said the BOJ wants to increase its reserves by several hundred billion yen (several billion dollars).
The BOJ typically turns over most of its earnings to the Finance Ministry. Retained earnings would expand the central bank's capital.
For now, the BOJ's monetary-expansion strategy is providing positive returns, as it pays commercial banks almost nothing for the excess reserves that they park at the central bank. Meantime, the BOJ benefits from positive yields on the Japanese government bonds that form most of its portfolio.
That could change whenever the BOJ ramps up the interest it pays on excess bank reserves, as part of an exit strategy after achieving its 2 percent inflation target. Having a greater capital cushion would help offset losses -- though even that may not be enough, according to Masaaki Kanno at JPMorgan Chase & Co.
Exit strategy
"It makes sense for the BOJ to increase the reserves, keeping in mind what will happen at the time of exit," said Kanno, the chief Japan economist at JPMorgan who previously worked at the BOJ. Even so, "the possible loss at exit is likely to be much, much bigger than the accumulated profit." In that case, the Finance Ministry would have to fund the BOJ, he said.
With the Abe administration forecast to compile a supplementary budget to help the economy, the timing of the BOJ's request comes at an awkward time. The Finance Ministry typically counts on existing fiscal revenues -- which would include BOJ payments -- to fund any special spending package.
The move to boost reserves comes just two weeks after BOJ Governor Haruhiko Kuroda rebutted any concern about the danger of balance-sheet losses curbing the effectiveness of monetary policy. He told reporters after the central bank left its policy stance unchanged Oct. 30 that the potential for operating losses wouldn't stop policy makers from stepping up monetary expansion.
With an annual target of expanding the monetary base by 80 trillion yen ($652 billion), the BOJ is buying mostly Japanese government bonds, along with some risk assets, including exchange-traded funds and real-estate investment trusts.
BOJ policy makers remain far from their 2 percent inflation target, though have expressed confidence that underlying price trends are moving in the right direction. Excluding food and energy, prices rose 0.9 percent in September from a year before, while the total consumer price index was flat.
Before it's here, it's on the Bloomberg Terminal.
LEARN MORE