Barclays: The European Economy Was Flying on Just One Engine in the Third Quarter
Domestic demand helped propel euro-area growth.
By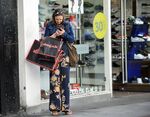 Hopes for a euro boom in 2015 had to be tempered on Friday morning after the preliminary estimate for third-quarter growth in the area came in a tick below the consensus estimate.
A full breakdown of the contributions to growth across the eurozone won't be published until Dec. 8, but Barclays says all of that 0.3 percent quarter-over-quarter growth came from just one source.
"We estimate that domestic demand, and in particular private consumption, was once again the main contributor to GDP growth (+0.3 percentage points), while the net trade contribution turned negative, as exports slowed much more than imports, being hit by the global trade slowdown," wrote Economist Apolline Menut.
According to Barclays, this isn't a one-off surprise but rather the early stages of a trend:

For several years, soft domestic demand in the euro area has been a drag on the rest of the global economy; but the shoe is now largely on the other foot.
Menut expects that the softening in external demand tied to the slowdown in emerging markets warrants "an extension of the time frame of asset purchases - possibly with a strengthening of the forward guidance - but also a cut in the depo[sit] rate by 10 basis points to -0.30 percent" at the European Central Bank's December meeting.
"The key question mark regarding the outlook for the second half of 2016 and for 2017 is, we believe, the extent to which real fixed investment will take over consumption as a major growth driver, in a situation where global demand could remain depressed for a longer period than currently foreseen," the economist concludes.