At Awkwardly Timed Conference, Daily Fantasy Players Ask: Is This the End?
Daily fantasy enthusiasts paint the battle with New York's attorney general in apocalyptic terms.
by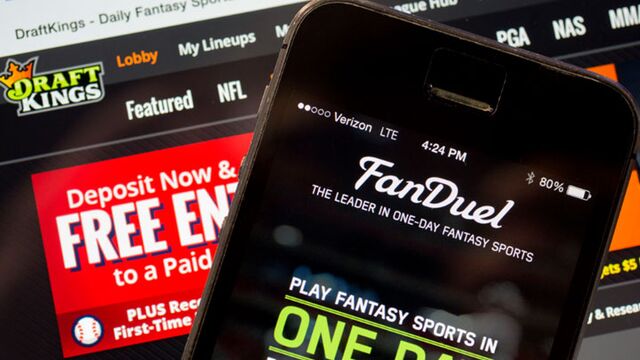 About 100 young men and maybe four young women gathered at a New York hotel on Friday morning for conference put on by Rotogrinders, a website that provides statistics and online tools to people who play daily fantasy sports. Originally intended for a robust discussion of how to win money playing fantasy sports, the gathering morphed into a kind of support session for people whose hobby (or, in some cases, full-time job) is facing an existential threat. FanDuel and DraftKings, the two largest daily fantasy sports companies, have been told by the state attorney general to cease operations in New York, and the players in the room were openly grappling with the idea that this time next year, the world of fantasy sports might look quite different. 
The event kicked off with Dan Back, the host of a popular podcast about daily fantasy, interviewing FanDuel Chief Executive Nigel Eccles. Coming directly from a protest in front of New York state Attorney General Eric Schneiderman's office, Back skillfully managed to lay out the current situation without ever saying the word "gambling." As the two men were talking, FanDuel and DraftKings both filed lawsuits against Schneiderman in New York state court. Both suits leaned heavily on the argument that fantasy sports is a game of skill and not, as the AG claimed, a game of chance. But they also both asserted something that the companies had previously denied: that the legal action is already having a material impact on their business. 
 "The Attorney General's cease-and-desist letter—and the adverse publicity attendant to it—are having a chilling effect on DraftKings' business nationwide, as well as its ability to attract new investors and partners," according to the suit filed by DraftKings. "Moreover, the Attorney General's letter is impeding DrafKing's ability to continue its relationships with current investors and partners." In recent days, DraftKings has been calling NBA teams and asking to modify its advertising commitments to them, according to people with knowledge of the situation. 
FanDuel's suit claims that Schneiderman's office has been contacting payment processors and asking them to stop doing business with the company. "These actions were intended to immediately disrupt FanDuel's New York business adversely, and they have done so," it argued in its suit. Eccles, who said on Tuesday that FanDuel had seen no tangible impact from the attorney general's letter, described it slightly differently in an interview with Bloomberg at the conference. "The damage will be if they do cut us off, but we've not been cut off," he said.
From the stage, Back and Eccles did their best to paint an optimistic picture, saying that Schneiderman's letter had angered many people and could spark legislative action to counter his move. The company has said it is working on legislation that would resemble a softer daily fantasy sports bill in Illinois, but nothing has yet been introduced.  
During a break between sessions, several daily fantasy sports veterans acknowledged that the industry could lose in New York, its biggest market in the U.S. Cal Spears, the founder and chief executive of RotoGrinders and a high-level player, argued that daily fantasy could survive even if it faced a ban in the state. "The upside would be lower," he said, meaning that prizes would be smaller. "And the way the sites operate would be different." 
But Jeremy Levine, the founder and chief executive of daily fantasy site Draft, framed the fight with Schneiderman in apocalyptic terms. Although his company didn't receive a letter from Schneiderman, it did immediately hear from Vantiv, its payment processor, who told it to stop operating in New York. He complied, as did a handful of other smaller operators. He's hoping that legal action from the deep-pocketed companies in the market will be successful, handing Schneiderman an embarrassing political loss. "If he wins and looks good doing it, other states will follow," said Levine. When asked what that would mean, he was blunt: "It's the end." 
Before it's here, it's on the Bloomberg Terminal.
LEARN MORE