Women's Hockey Wants to Break Into the Big Leagues
Building a pro hockey league from the ice up.
By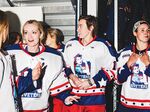 For athletes in a game that doesn't allow body checking, women's hockey players sure do slam into each other a lot. The New York Riveters are playing the second home game of their inaugural season, against the Connecticut Whale, at an ice rink in the outer reaches of Brooklyn, and the game clock can't tick more than a few seconds without someone flying at full speed into someone else—sometimes by accident, sometimes maybe not. Gloves are lost. At least one stick breaks. "You can't beat a game like this," says Mike Martorella, 42. He's wearing a Riveters jersey. "I paid $20 to sit in the front row and watch Olympic-level athletes play right in front of me."
The Riveters are the flagship team of the National Women's Hockey League, founded this year by Dani Rylan, a former Northeastern University hockey player who wants to make her league "as big as the NHL." Only about 700 people are watching this game—about half of whom are women—but they have the enthusiasm of at least twice that. "When we heard about these guys, we had to get season tickets," says Kristine Boniello, 30, smiling through bright red lipstick, her hair in pin curls and tied with a red bandanna just like the team's mascot, Rosie the Riveter. Boniello drove more than an hour from Long Island with her sister and some friends to watch the game. There are a few other Rosies in the crowd.
Before the NWHL started in October, there was no professional pipeline for women hockey players in the U.S. That's not to say women weren't playing hockey anywhere—they have been, since at least 1891, when some ladies gathered at an ice rink in Canada and an Ottawa newspaper wrote about the spectacle—but Americans were relegated to amateur leagues or to playing individually in men's leagues. When women's hockey was added to the Winter Olympics in 1998, the American and Canadian teams recruited almost exclusively from collegiate and men's minor league teams.

"Unless you're good enough for the Olympics, your career basically ends with college," Rylan says. At 28, she has long blond hair and a smile so even and bright it's clear she's never taken a puck to the face. (An opposing player did skate over her forearm, though.) Rylan started playing hockey at age 5 in Tampa and continued through college. After she graduated in 2012 and moved to New York to open a coffee shop called Rise & Grind in East Harlem, she joined two amateur men's hockey leagues for fun.
In February 2014, Rylan decided to form a New York team within the Canadian Women's Hockey League, the world's largest women's professional hockey league, with five teams. "I wanted to give women a way to play hockey after college and not have to hang their skates up," she says. Then she found out the league didn't pay players and made them buy their own equipment. So she scrapped that idea and founded her own league. Rylan says the NWHL is funded through private donations, the sources and amounts of which she won't discuss.
The NWHL began with four teams in cities that already have a lot of hockey fans: Boston, Buffalo, New York, and Stamford, Conn. It recruited athletes—including several Canadian league players and eight members of the U.S. Olympic team—by promising to pay them an average annual salary of $15,000, plus a percentage of their jersey sales. It's not a lot, but it's more than athletes earn in some other sports. Professional female soccer players in the U.S. make about that much, but according to a survey by the USA Track & Field Foundation, elite runners (male or female) who rank in the top 10 for their events usually make even less. Rylan decided on an 18-game season lasting from October to February, which would allow women time for second careers. Players are lawyers, engineers, schoolteachers, and bakers. The most common job is, unsurprisingly, teaching hockey.
"It was a no-brainer, joining this league. I'm actually getting paid," says Brianna Decker, 24, a former Canadian league player who now plays for the Boston Pride. That is, when she's not training full time on the U.S. women's national team for the 2018 Olympics or teaching private hockey lessons to young girls on the side. "I mean, I know I'm not going to be rich," Decker says. "But I don't play hockey to be rich."
To keep the NWHL viable, Rylan has kept its other costs as low as possible. She and a staff of nine (one of whom, her communications director, is also a player) work out of a co-working space in a graffiti-covered warehouse in Brooklyn. Games take place at local hockey rinks when the primary occupants aren't using them—the Pride play at Harvard University, for example. There's a grittiness to Rylan and her league that makes you want to root for them. When the Riveters' first home game was delayed an hour and a half because Boston's bus got stuck in traffic, Riveters forward Janine Weber entertained fans by juggling oranges.

But there's also a financial reality that can't be avoided: The NWHL is doling out more than $1.1 million in salaries this first year; to keep doing that, it's going to have to start generating revenue. That hasn't been easy. "It was a challenge getting sponsors on board this first year, because they wanted tangible numbers that we just didn't have—butts in the seats, size of our following," Rylan says. She's approached some of the NHL's sponsors and also companies that support "women's stuff," as she puts it, with no luck. She wouldn't say which ones—she's still in talks with some of them for next year. (Gatorade sponsors both the NHL and the WNBA but refused to specify what size a league would have to reach before it would be interested in a partnership.) Television networks were similarly uninterested in airing the games, which the NWHL has decided to stream and archive online instead. The problem, Rylan kept being told, is that there just aren't that many people interested in women's hockey.
This is the big issue for many women's sports. With the rare exception of, say, Serena Williams, female athletes aren't paid well, in part because their sports don't generate as much interest. Leagues can't get more money from sponsors until they get more fans, they can't get more fans until they have the media exposure, and they can't get the media exposure without the money or fans. Last year, a meager 2 percent of ESPN's SportsCenter coverage focused on women's sports, according to an analysis by the University of Southern California.
"This is something we talk about a lot," says Sarah Spain, an ESPN reporter. "Do we only cover the sports people are already interested in? Or will they become interested in something if we cover it?" It took three tries for women's soccer to create a viable professional organization in the U.S.; the first two folded, and the current one, the National Women's Soccer League, is only three years old. This is the same sport that drew 23 million television viewers when the U.S. women's team won the FIFA World Cup in July. Then again, that game was aired on Fox, a major network.
The NWHL's audience is small—it usually sells about 1,200 tickets per game, though that number plummets when the local NHL team is playing the same night. But it's active online, and as streaming becomes more popular, it's possible the league can survive for a while without a TV broadcast deal. "I'm not sure you could've gotten a league like this off the ground 20 or 30 years ago, even if the demand was there," says Sean McIndoe, a hockey writer for ESPN.com. "You're not going to be huge without the TV exposure, but if you're online you can find your audience."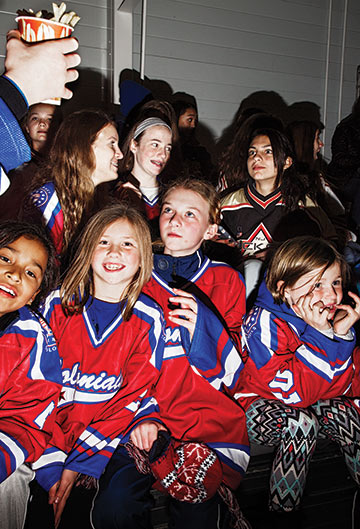 Whatever happens to the NWHL, the league has already brought about one big change to women's hockey. According to Brenda Andress, the Canadian league's director, the CWHL will start paying players next year and would like to offer a salary of $26,000 to $40,000 within a decade. "We want hockey to be a sustainable career for women, and that they don't have to have another job," Andress says.
In Brooklyn, the Connecticut Whale end up beating the Riveters 3-1. After the game, the Riveters sit sweaty and flushed at card tables near the rink's concession stands, where they sign autographs for a few dozen fans—almost exclusively parents with young daughters. "That's what I want, for a little girl to watch one of our games and know, when I grow up, I can play hockey," Rylan says. "And hopefully, when that girl grows up, she'll be able to make more money playing it."
Before it's here, it's on the Bloomberg Terminal.
LEARN MORE