VW's Open Door to Whistleblowers Closes at the End of the Month
by
Employees must step forward with information by Nov. 30

VW amnesty offer doesn't rule out criminal proceedings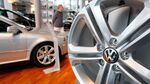 Volkswagen AG wants its workers to be open about any cheating at the carmaker, as long as they talk by the end of the month.
In a bid to emerge from the emissions scandal, VW is offering amnesty to employees that reveal information to help investigations into manipulation. If they come forward by Nov. 30, they won't be fired and won't face damage claims from the automaker, according to a letter posted on Volkswagen's corporate intranet and obtained by Bloomberg.
"In this process, every single day counts," Herbert Diess, head of the VW brand, said in the letter. "We are counting on your cooperation and knowledge as our company's employees to get to the bottom of the diesel and CO2 issue."
Volkswagen employees helped the Wolfsburg, Germany-based company uncover inconsistencies in carbon-dioxide emissions in 800,000 cars last week. That added to the 11 million vehicles with diesel engines rigged to fool regulatory tests. The latest admission created new uncertainty about the extent of cheating at the company, which has provided few details.
Chief Executive Officer Matthias Mueller, who was appointed in the wake of the scandal, said when taking his post in September that his most urgent task is to win back trust "by leaving no stone unturned." Last week, he said the company "will stop at nothing and nobody" to get to the truth.
The whistleblowers amnesty is valid for staff covered by the manufacturer's collective-bargaining agreements. The company said that criminal proceedings can't be ruled out, depending on the findings, and that employees could be transferred or given other responsibilities. Volkswagen declined to comment on internal policy.
The deadline for internal informers was reported late Wednesday in Sueddeutsche Zeitung.
Before it's here, it's on the Bloomberg Terminal.
LEARN MORE