Volkswagen's Audi Unit Faces Separate German Emissions Probe
by
Prosecutors in Audi hometown of Ingolstadt open investigation

German probes over diesel scandal may eventually be combined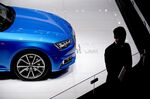 German prosecutors opened another criminal investigation into the Volkswagen AG diesel emission scandal, this time looking at the company's upscale Audi unit. 
Prosecutors in Ingolstadt opened the probe after reviewing several criminal complaints, including one filed by Audi, said Juergen Staudt, a spokesman for the investigators. The case is targeting people at the automaker who were responsible for the emissions results, but no individual suspects have been determined, he said.
Volkswagen is reeling from revelations in September that a line of diesel engines was equipped with software designed to fool emissions testers, affecting about 11 million vehicles worldwide. Audi, which is based in Ingolstadt, is among the group's passenger-vehicle brands that, along with the VW commercial-van nameplate, is faced with the recalls.
Prosecutors in the city of Braunschweig are already investigating VW over the emissions. Their Ingolstadt counterparts have asked them to also take over their case, which they only did in part. So Ingolstadt started its own probe, said Staudt.
"Braunschweig took those parts that are clearly located at Volkswagen and asked us to keep the elements limited to Audi," said Staudt. "But there are still negotiations pending whether to merge the probes eventually."
Before it's here, it's on the Bloomberg Terminal.
LEARN MORE