UniCredit Drops as New Capital Targets Disappoint Investors
by and
UniCredit is No. 2 decliner in Euro Stoxx 600 Banks Index

Capital vs dividend conundrum not fully addressed, Filtri says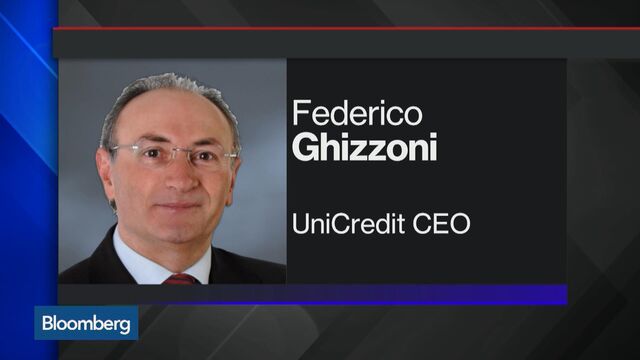 UniCredit SpA fell in Milan trading on concern that its latest overhaul doesn't do enough to bulk up capital at Italy's biggest bank and may restrict future dividend payouts.
Chief Executive Officer Federico Ghizzoni, 60, on Wednesday announced a reorganization that includes as many as 18,200 job cuts as the lender seeks to improve returns and expand its capital buffers. The bank raised its target for capital while lowering goals for annual profit and return on tangible equity.
"The plan disappoints in terms of capital targets," Hugo Cruz and Jonas Floriani, London-based analysts at Keefe, Bruyette & Woods Inc., wrote to clients on Thursday. "UniCredit's unwillingness to commit to a hard target for the absolute amount of dividends" means they are not confident that the target is sufficient, they said. The brokerage downgraded the stock to market perform from outperform.
UniCredit is shooting for a common equity Tier 1 ratio, a key measure of capital strength, of 11.5 percent by 2018, compared with 10 percent previously targeted. Its CET1 ratio stood at 10.5 percent as of Sept. 30. lower than the 24-bank European average of 11.8 percent, according to data compiled by Bloomberg.
The stock, which is the second-biggest decliner in Europe's 46-member Stoxx 600 Banks Index, fell as much as 4.7 percent after markets opened and was 4.4 percent lower at 5.66 euros as of 12:28 p.m. in Milan. The stock initially rose after the plan was presented before closing little changed.
Dividend Commitment


UniCredit plans to pay out 40 percent of profit as dividends, on average, through 2018. Ghizzoni said "this is a pool of potential dividends available, not a commitment in itself," because of potential regulatory developments.
"The capital versus dividend conundrum is not fully addressed," Andrea Filtri, a London-based analyst at Mediobanca SpA, wrote in a note Thursday. "This does not allow us to put bearish investors' capital worries to bed, while it does not satisfy dividend expectations of bullish investors."
UniCredit lowered its annual profit target for 2018 to 5.3 billion euros from 6.6 billion euros in the earlier plan and revised its target for return on tangible equity to 11 percent from 13 percent. The measure stood at 4.8 percent in the third quarter, the bank said yesterday.
Ghizzoni will cut positions in Germany, Austria and Italy as part of the new plan outlined just a year after the bank revised its strategy. UniCredit will either restructure or sell "poorly performing" businesses such as its Austrian retail banking and its Italian leasing unit. The bank also intends to streamline its structure by assuming direct control of its eastern European operations, currently managed by UniCredit Bank Austria AG.
UniCredit's presence in Europe after a decade of acquisitions has led to duplication of functions and a costly business mix that is crimping profit. With revenue under pressure, UniCredit's costs swallow up about 61 percent of income. It expects to reduce that to 50 percent by 2018, down from 51 percent previously.
Before it's here, it's on the Bloomberg Terminal.
LEARN MORE