Wages Bounce Back
After years of little or no raises, some industries are starting to pay more.
By and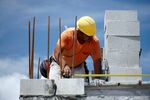 America may finally be getting a decent raise. A range of data suggests the demand for labor has risen enough to compel some employers to pay more to retain or hire workers. Although the gains are modest, they should broaden and speed up as unemployment falls further and competition intensifies for quality labor. "Wage growth is slowly accelerating," says Mark Zandi, chief economist at Moody's Analytics. "By the end of next year, we should be closing in on 3 percent growth," compared with the average 2.2 percent pay raise that's been prevalent throughout most of 2015.
According to data from the U.S. Bureau of Labor Statistics, construction is showing the strongest job growth for the 12 months through October this year, up 3.8 percent, compared with 2 percent across all categories. Professional services—which includes jobs in architecture, computer systems design, and legal services—comes in second with 3.5 percent growth, the data from the BLS show.

That's good news, because these gains are in industries that pay well: Construction workers made $27.54 an hour in October, based on U.S. Department of Labor data. That's up 2.6 percent from the year before. Professional and business-services workers earned $30.30 hourly, up 3 percent. For all workers, average hourly earnings came in at $25.20.
A steady drop in the unemployment rate is giving economists confidence that a turn to higher wages may be for real. There are now just 1.5 unemployed job seekers for every opening. That's down from a high of 6.8 in 2009 and is below the level that prevailed at the end of the last economic expansion, in December 2007. "You've got the economic fundamentals that say we should get higher wages," says Brian Jones, senior U.S. economist at Société Générale in New York, referring to the decline in surplus workers.
In an obvious sign of improvement, the Labor Department's gauge of average hourly earnings for jobs of all categories posted a 2.5 percent gain in October after years of stagnating near 2 percent. This is the best reading since 2009 and came as a positive surprise.
Anecdotal evidence bears out the data. Turner Construction, which has 45 offices throughout the U.S. and hires from 325 to 350 recruits out of college each year to be field engineers and other kinds of managers, has in the past two years seen stiffer competition for workers and is paying more in response, says recruiting director Katie Igoe. "Is the competition greater? Absolutely. They're wanting more money. They're getting multiple offers," she says.
This is a welcome turn of events for Federal Reserve Chair Janet Yellen and her colleagues at the Fed as they contemplate whether the economy is strong enough to handle the first interest rate increase since 2006. The Fed has a dual mandate of maximizing employment and stabilizing prices, and Yellen has said wage gains would add to her confidence that inflation will pick up to the 2 percent range that will help support economic growth.
Yet the positive data must still be read prudently, says Tom Gimbel, chief executive officer of Chicago-based staffing company LaSalle Network. "What we're seeing are increases in specific positions and specific areas," he says. "It's not across the board."
The BLS's Employment Cost Index tells a cautionary tale. It measures employer-paid taxes such as Social Security and Medicare in addition to the costs of wages and benefits, so it's a good proxy for wage trends. After a strong gain of 2.6 percent at the start of 2015 stoked hopes of a pay pickup, the index has fallen to 2 percent growth, the rate of change that has mostly prevailed since 2010. A robust increase in labor productivity—which can drive wage gains when output per employee increases substantially—is missing. Gains in productivity, or the dollar value of goods and services that a worker produces in one hour, have averaged 1.3 percent since 2007, compared with 2.2 percent during the 1990s. That means pay increases probably aren't headed for the heights seen in prior recoveries, says Roberto Perli, a partner at Cornerstone Macro, an economics research firm.
Wages do seem poised to accelerate, though. "You add up all the tea leaves, and it's starting to look like a labor market that's pretty close to full employment," says Peter Hooper, chief economist for Deutsche Bank Securities in New York. "You would expect to begin to see some wage movement."
The bottom line: Economists are looking for wage gains of close to 3 percent by the end of 2016 as unemployment drops further.
Before it's here, it's on the Bloomberg Terminal.
LEARN MORE