U.K.'s `Brexit' Vote Demands are a Tough Sell, EU's Tusk Says
by
No guarantee a deal will be ready for December summit

Tusk comments two days after Cameron set out requests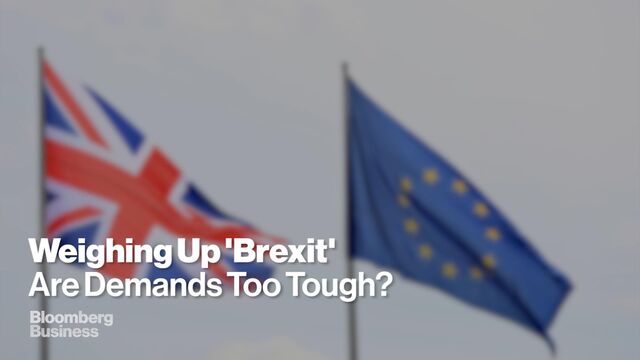 The job of convincing every European Union government to agree to a set of U.K. demands that will influence a vote on the nation's membership in the 28-country bloc may not be possible, EU President Donald Tusk said.
"For sure, this is very, very tough," Tusk told a news conference at the end of a summit in Valletta, Malta, on Thursday. "It will be really difficult to find an agreement and there's no guarantee we can do it by December."
While the U.K. and the EU have said there are no deadlines to reach conclusion on the issue, both sides have been aiming for the year-end gathering of the bloc's national leaders to be the moment when they tell Prime Minister David Cameron what they can accept.
Two days ago Cameron published a letter he sent to Tusk containing four key demands he wants met before holding a referendum on the U.K.'s membership in the bloc before the end of 2017. They include seeking greater controls on migration and protecting the rights of countries outside the euro area. They need agreement from all other 27 nations.
His proposal to restrict benefits to migrants from other EU countries is seen as most contentious. On Tuesday the European Commission described the idea as being akin to "direct discrimination."
Officials working for Tusk and the Commission will spend the next two weeks consulting representatives from national governments to compile the EU's first comprehensive reaction to the British demands that is designed to form the basis of leaders' discussions.
Cameron returned to London half-way through the two-day summit in Malta in which leaders sought to come up with solutions to Europe's refugee crisis. While the U.K.'s relationship with the EU was not on the agenda, the prime minister was able to discuss the issue briefly with some leaders.
In the U.K.'s government's wishlist "the most sensitive point is the one about free movement of people, that's the most difficult issue," Swedish Prime Minister Stefan Loefven, who attended the Valletta talks, told BBC Radio 4 on Thursday. "It's important the U.K. stays in the EU. It's good for the U.K. as well. There are always limits."
Before it's here, it's on the Bloomberg Terminal.
LEARN MORE