Islamic State Claims Attack on Hezbollah After Syria Setback
by
At least 43 people killed, 239 injured in Beirut attack

Three bombers were involved in the blasts, according to army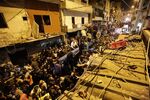 Islamic State militants claimed their first attack against Hezbollah's Beirut stronghold on Thursday, as the groups' intensifying confrontation in Syria's civil war spills across borders.
Two suicide bombs that exploded just minutes apart killed at least 43 people and wounded 239 others in a densely populated part of the Lebanese capital's southern suburbs during rush hour, the official National News Agency reported, citing the Health Ministry. The army said the body of a third bomber was found at the scene but his explosives belt had failed to detonate.
Several media outlets, including Al-Jazeera TV, said Islamic State claimed the bombings on an website affiliated to the jihadist group.
Syria-based Sunni extremists bombed Hezbollah targets in 2013 and early 2014, but those strikes preceded Islamic State's capture of swaths of land in Syria and Iraq. They were in response to the involvement of Shiite Hezbollah fighters in the Syrian conflict, where the group supports Syrian President Bashar al-Assad.
Thursday's blasts came two days after Syrian forces backed by Hezbollah and Russian airstrikes broke a two-year siege on the Kweiris military base in Aleppo province imposed by Islamic State militants, marking a significant success for Assad's army and his allies.
"Today's explosions have to be put in the regional context," said Sami Nader, head of the Beirut-based Levant Institute for Strategic Affairs. "Islamic State has taken its fight against Hezbollah to Lebanon in what appears to be new rules of engagement."
Paul Salem, vice-president of the Middle East Institute in Washington, said Thursday's attack means Hezbollah is paying "a heavier price" for its Syrian involvement. "But it also reinforces its narrative of 'they're out to get us,'" he said. "It won't change Hezbollah's strategy in Syria."
Before it's here, it's on the Bloomberg Terminal.
LEARN MORE