This Is Where Hedge Funds, Mutual Funds, and Sell-Side Analysts Are Agreed
Everyone loves big banks right now and hates energy companies.
by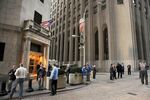 Investors seeking (or trying to avoid) the wisdom of crowds need look no further than the latest from Credit Suisse.
A team led by U.S. Equity Strategist Lori Calvasina analyzed the current recommendations of sell-side analysts plus the positioning of buy-side mutual funds and hedge funds to try to answer the question: What does everybody love (and hate)?
Here's a quick snapshot of current sector positioning across the three groups.

Credit Suisse says that finding consensus across these three disparate financial players can be difficult, but at least four sectors currently stand out, with two falling in the "everyone loves" category and two in the "hates."
First, here's a look at what everyone loves. 
1. Everyone loves large-cap banks
Hedge funds, mutual funds, and sell-side analysts are pretty bullish on this sector. Banks are expected to see a profit boost once the Federal Reserve finally raises interest rates, a move that could come as early as next month. Here's more from Credit Suisse: "Though we can't deny that this is starting to look like a crowded trade, all three metrics remain below past peaks, suggesting that optimism on the group has more room to run. Note that within small cap, a bullish bias is also in place for Banks on the buy-side, among both mutual funds and hedge funds."
2. And small-cap software and services companies
Not only are all three groups bullish on small-cap software and services companies, they are very bullish. "Within small cap, uniformly bullish viewpoints are in place for software & services. Sell-side net buys are closing in on 12-year highs, while mutual fund overweights and hedge fund net exposure are also very close to the high end of their historical ranges." 
And here's what the three groups don't seem to like right now.
3. Everyone hates large-cap energy companies ...
With oil prices still low, the idea that hedge funds, mutual funds, and analysts are bearish on the energy sector might not be so surprising. While Credit Suisse says it might usually interpret such extreme pessimism as a contrarian signal, it's holding off for now: "From a contrarian point of view, the deep bearishness seen for the group is something we would normally consider to be a bullish sign. But we are troubled that the attempts to make a bottom on our sell-side and mutual fund indicators failed earlier this year, and that hedge fund net exposure seems to be on a course for net short territory."
4. … and large-cap household and personal products companies
All three groups are bearish on this particular sector, though positioning by hedge funds is probably the most extreme, with net exposure near five-year lows. "Sentiment may have bottomed among both sell-siders and hedge funds, however, as both net buy ratings and net exposure have inched up recently after hitting new lows. On the other hand, mutual fund overweights still have considerable room left to fall before hitting historical lows."
Here's a more in-depth look at the views across investor types:
Other sectors that Credit Suisse says bear watching are Capital Goods due to extreme bearishness from the sell-side and hedge funds; Pharma and Biotech, since there might be a crowded trade forming given a number of investors taking overweight views; Health Care Equipment and Services as "warning signals" are flashing for Credit Suisse, and it believes a top might have been formed in terms of bullish sentiment; and Retail could see a shift in sentiment as investors look at value rather than growth stocks following a rate hike. 
Before it's here, it's on the Bloomberg Terminal.
LEARN MORE