Safe Bets: Death, Taxes and an ECB Deposit-Rate Cut in December
by
Eonia forwards show a 10 basis-point cut is 97% priced in

Draghi boosts speculation with signal to lawmakers in Brussels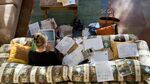 Investors are now all but certain that the European Central Bank will cut its deposit rate next month.
Traders are pricing in a 97 percent likelihood of a 10 basis-point, or 0.1 percentage point, cut in December to minus 0.3 percent, according to forward rates on the euro overnight index average, or Eonia, dated for ECB meetings. That level increased on Thursday as ECB President Mario Draghi signaled he's ready to add to stimulus programs.

Speculation a cut is coming pushed the yield on German two-year notes to a record minus 0.372 percent on Thursday. The deposit rate is important for bondholders because only securities with yields above that level are eligible for the ECB's quantitative easing plan.
"If you look at the short end of the German curve it's trading already with a considerable discount to the current level of the depo rate," said Luca Cazzulani, senior fixed-income strategist at UniCredit SpA in Milan. That "reflects a market consensus for a rate cut."
In comments to European lawmakers in Brussels on Thursday, Draghi said risks to the euro-zone economy are "clearly visible" and reiterated that policy makers meeting next month will take another look at the monetary stimulus they're providing. The deposit rate was first cut to below zero last year, meaning banks are charged for keeping excess cash with the ECB overnight.
The pricing calculation for December assumes a five basis-point spread of Eonia above the deposit rate following an ECB cut.
Before it's here, it's on the Bloomberg Terminal.
LEARN MORE