Proxy Rigging Alleged at Schorsch-Linked Firm Before Apollo Deal
Neil Weinberg, Prashant Gopal and Greg Farrell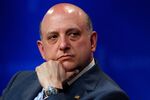 An arm of Nicholas Schorsch's investment empire pressured employees into rigging shareholder proxy votes, Massachusetts' securities regulator alleged in a complaint filed Thursday.
The complaint lays out allegations of a web of companies founded, created or partly owned by Schorsch -- alleging that employees of one of them, a Boston-based broker-dealer, impersonated shareholders in a bid to sway a proxy vote at another of the companies, an investment vehicle created by a firm that Schorsch co-founded.
As alleged, it's a tale of subterfuge, fake accents and conflicting interests deep inside the world of real-estate finance. The twist is that its cast of characters is familiar: Many are among the companies that were part of a deal that collapsed earlier this week that would have seen Apollo Global Management invest in two companies tied to Schorsch.
The failed deal, as proposed, involved the transfer of $19 billion in assets between the Schorsch-linked companies -- RCS Capital Corp. and AR Capital -- and New York-based Apollo.
Several of those companies figured in the narrative laid out in Thursday's administrative complaint filed by Massachusetts' Secretary of the Commonwealth, William Galvin.
At its center is a specialty finance company called Business Development Corp. of America, which the complaint said was sponsored by American Realty Capital, or AR Capital, a closely held company founded and part-owned by Schorsch.
Shareholders of BDCA were asked in September to vote in favor of several changes to the company's charter, according to the complaint. Those changes were a prerequisite for the proposed deal with Apollo, the complaint said.
'Contrived' Accents
To lock in the vote, employees of a Boston-based company also linked to Schorsch -- Realty Capital Securities LLC, a subsidiary of RCS Capital -- fabricated proxy votes, the complaint alleged. Posing as shareholders, the employees at times adopted "contrived" accents to fool a proxy company into accepting the votes, it said.
The Massachusetts complaint accuses Realty Capital Securities of proxy-voting fraud and seeks to revoke its broker-dealer registration in the state.
A representative for Realty Capital Securities didn't immediately respond to a request for comment.
Galvin, in an announcement of his action, mentions the Apollo deal but doesn't address whether its failure may have been linked to the allegations of vote-rigging. The complaint doesn't accuse AR Capital, RCS Capital or Apollo of wrongdoing.
A representative of AR Capital didn't immediately respond to a request for comment. Apollo Global Management declined to comment through Charles Zehren of Rubenstein Associates.
Reviewing Complaint
RCS Capital, in a statement, said it is reviewing the complaint and is fully cooperating with all relevant agencies. It declined to comment further.
Schorsch wasn't made available to respond to requests for comment placed with representatives for AR Capital and RCS Capital.
The Massachusetts action is the latest to touch a network of companies linked to Schorsch, who resigned from boards of several of them last year after one of his real estate investment trusts disclosed that it had accounting errors that were intentionally concealed. AR Capital said at the time that the moves would elimate any perceived conflicts, with Schorsch, expressing faith in the directors, saying the changes were part of the natural evolution of the growing companies.
Closely held AR Capital has created non-traded REITs and then generated fees by serving as their external managers. Schorsch was the biggest shareholder of RCS Capital -- whose businesses include raising money from investors for AR Capital nontraded REITs -- as of Oct. 14, according to data compiled by Bloomberg. He resigned from its board at the end of 2014, according to a regulatory filing.
Fee of $375,000
Before the Apollo deal could happen, according to the Massachusetts complaint, shareholders of Business Development Corp. of America would have to approve nine changes -- which an employee cited in the complaint characterized to state investigators as "less shareholder friendly"-- to the company charter.
That's where Realty Capital Securities, the Boston-based subsidiary of RCS Capital, allegedly came in.
Apollo and AR Capital paid approximately $375,000 to RCS and a related company for "proxy solicitation services," the complaint alleges. That payment was made "notwithstanding the inherent conflict with the brokerage firm's vested interest in reaching an affirmative vote," Galvin's office said in a statement announcing its action.
Poor Optics
"The optics of using an affiliated proxy solicitation firm are not good," said Kevin Gannon, chairman and chief executive officer of Robert A. Stanger & Co., a Shrewsbury, New Jersey-based investment bank. "It's pretty ugly."
RCS exerted "immense internal pressure" to round up votes, according to the complaint, including in the form of an Aug. 5 e-mail from a senior RCS officer.
"We need each and everyone of you regardless of excuse and circumstance to focus on this all day today...this...is for your own personal well-being," the manager wrote, according to the complaint. "Please don't put me in a position where I'm asking you why you are not working on Proxy."
Risk Termination
Employees were also told that if they didn't participate in the proxies, they would get a call from Michael Weil and would risk termination, the complaint said. Weil is chairman of RCS and AR Capital's president and chief operating officer, according to the complaint.
Representatives for the companies didn't respond to requests to make Weil available for interview.
As part of the alleged scheme, RCS employees called a proxy firm, claiming to have located BDCA shareholders, and conferenced in colleagues who in at least two instances impersonated shareholders, according to the complaint. One RCS employee, adopting an accent, allegedly told the proxy-solicitation firm representative that he was voting with BDCA's management and directors on all proposals.
Some of this information was provided by a "concerned" employee, said the complaint.
Mutual Withdrawal
Apollo and investment-management firm AR Capital mutually agreed on Nov. 9 to cancel a transaction in which a new company, AR Global Investments, would have absorbed about $19 billion overseen by Schorsch, with Apollo holding a 60 percent stake in AR Global. RCS Capital's shares fell 46 percent that day.
As part of the termination of the deal, AR Capital is purchasing from Apollo $25 million of RCS Capital preferred stock for $25.6 million, according to a statement.
Before it's here, it's on the Bloomberg Terminal.
LEARN MORE