Portugal in Limbo as Finance Minister Evokes Ghost of Greece
by and
President to decide who will govern after Premier Coelho fell

Socialists want to form minority government, ease austerity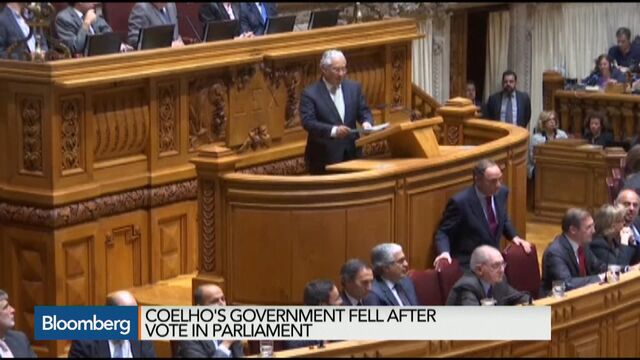 Portugal's outgoing government has a word of advice for the next prime minister: If you stray from Europe's budget rules, it will only tempt the Greek Fates.
After opposition parties on Tuesday ousted Prime Minister Pedro Passos Coelho in a vote, the nation of 11 million people awaits President Anibal Cavaco Silva to pick a successor. Leaders of the Socialists, the biggest of the allied parties, have vowed to reverse some measures enforced in exchange for financial aid, while complying with European Union rules.

"Sadly, you only need to look at the recent history of one of our partners in the euro, Greece, and the cost of the alleged end of austerity and the revolt against Europe's rules to see the effect it has," Finance Minister Maria Luis Albuquerque said on Tuesday before the vote. "What have they gained? More recession, more poverty, more unemployment and an increase of the dependency on European institutions and the IMF."
Political Bellwether
Coelho's political fortunes have swung from praise for nursing the economy back to health and winning re-election, to humiliation for serving out one of the shortest terms on record. With elections in neighboring Spain coming up, what happens in Portugal serves as a measure of how voters in Europe are feeling after years of belt-tightening.
Portugal followed Greece and Ireland in requesting a three-year bailout from the European Union and the International Monetary Fund. It cut spending and raised taxes. Unlike Greece, which has gone through multiple aid programs, the Iberian country exited its bailout in 2014 and returned to growth.
Portugal "definitely won't" follow Greece's path, Mario Centeno, a Socialist lawmaker and economist who helped draft his party's government program, said on television station RTP on Wednesday night.
The Portuguese 10-year bond yield fell 4 basis points to 2.70 percent at 10:55 a.m. in London on Thursday, after rising to as much as 2.91 percent on Monday, the highest since July. After peaking at 18 percent three years ago at the height of Europe's debt crisis, the yield fell to as low as 1.5 percent in March and 2.3 percent just before the Oct. 4 election.
"A full blown Portuguese crisis seems unlikely," Holger Schmieding, chief economist at Berenberg Bank in London, said in a note. "The Socialists in Portugal are at core a responsible and pro-European party. That sets them apart from Greece's Syriza. Much of their base would probably not relish any serious confrontation with Europe."
Still, the risk of fiscal slippage has some credit rating agencies on guard.
"Relaxation resulting in a less favorable trajectory in government debt-to-GDP levels could lead to a negative rating action," Fitch Ratings said in a statement on Wednesday.
Debt Watch
The political uncertainty comes just as Portugal is taming its mountain of debt.

The European Commission forecasts Portugal's ratio of debt-to-gross domestic product will start declining this year to 128 percent after surging to 130 percent in 2014. The debt remains rated below investment grade by Fitch, Moody's Investors Service and Standard & Poor's. Portugal holds an investment-grade rating at DBRS Ltd., which is scheduled to review its position on Friday.

Who will be picked to govern remains to be seen. Socialist leader Antonio Costa is urging Silva to let him head up a minority government with the support of other parties, but the 76-year-old president could also opt to seek an alternative, or even ask Coelho to continue as caretaker. Portuguese law prohibits repeat elections for six months.
The government, now in a caretaker role, holds its weekly cabinet meeting on Thursday. The presidency hasn't yet said when it will hold meetings with parties that are required before the naming of a prime minister. Silva meets groups including the Business Confederation and the Tourism Confederation on Thursday.
Bolster Incomes
While the Socialists caused the government to collapse, during the coalition's first term they supported some of Coelho's efforts to comply with the European bailout that the previous Socialist government had requested.
Now, Costa plans to reverse state salary cuts and bolster family incomes. He says he can do that and keep the budget deficit below the EU limit of 3 percent of gross domestic product through 2019. Coelho's government preferred an export-led recovery and planned to ease austerity at a slower pace than the Socialists.
Even as he promises to maintain Portugal's commitments, Costa's current allies have voiced more trenchant opposition to EU-mandated austerity. The Left Bloc voiced support for restructuring Portugal's debt, while the Communists have said the country should prepare to exit the euro.
The Socialist Party on Tuesday signed separate documents it calls "joint positions" with each of the three parties that it says would support its minority government.
In a Tuesday address to parliament, ahead of the vote that toppled him, Coelho had this to say about the plan put forward by his political rivals: "I hope that what we are being promised now for the future doesn't have to paid in double tomorrow."
Before it's here, it's on the Bloomberg Terminal.
LEARN MORE