Modi Visit to U.K. Brings $13 Billion of Deals, Protests
by and
London trading in Indian railway rupee bonds agreed by leaders

Britain and India agreement on civil nuclear cooperation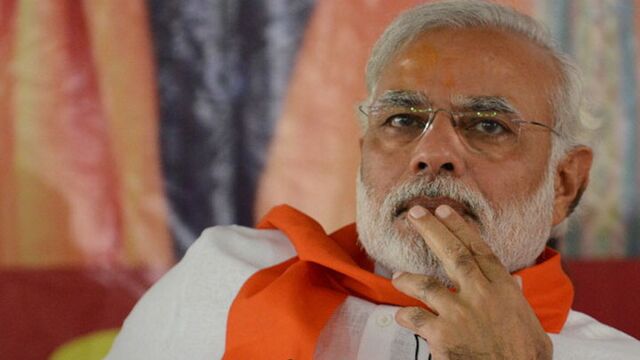 British and Indian companies agreed on 9 billion pounds ($13 billion) of deals as Narendra Modi became the first Indian prime minister to visit the U.K. in almost a decade.
Speaking at a joint press conference in London Thursday, U.K. Prime Minister David Cameron said the two countries had not realized "the full potential" of their relationship. Agreements include a five-year partnership to develop three Indian cities, a memorandum of understanding to develop nuclear-power plants and a deal to allow rupee-denominated Indian Railway bonds to be traded in London.
"India invests more into the U.K. than it does in the rest of the European Union combined," Cameron said. "I think there's scope to go much further."
Modi arrived in London to protests over what critics say is growing intolerance in India since his Bharatiya Janata Party swept to power last year. Sikhs carrying banners, Kashmiris and Nepalis with flags and Muslims holding placards chanted and shouted as Modi was driven to address Parliament following his meeting with Cameron.
Protesters drew attention to sexual violence and caste conflict in India and more than 200 authors, including Salman Rushdie, signed an open letter urging Cameron to address "the rising climate of fear" in India during his talks with Modi.
Buddha and Gandhi
In India, leading authors and poets recently returned awards from the National Academy of Letters, accusing the organization of staying silent over the killing of an academic who had criticized idol worship in Hinduism.
Modi insisted that intolerance was unacceptable in the "land of Buddha and Gandhi."
"India is a vibrant democracy that protects every citizen and his views in accordance with our constitution and we are committed to that," he told reporters.
A year and half after becoming prime minister, there is concern over the slow pace of economic reform in a country projected by the United Nations to be the world's most populous by 2022. Modi has suffered recent political setbacks, with the BJP losing both Bihar and Delhi in regional elections this year. The benchmark Sensex index fell to the lowest since Sept. 28 this week.
'Huge Moment'
Full details of the deals agreed during the visit were due to be released later on Thursday, but Modi said the two countries would work together on renewable energy, defense and developing their respective service sectors. Cameron's office also highlighted a deal for London's Kings College Hospital to build a facility in Chandigarh and India's TVS Group to create more than 100 jobs in Barnsley, northern England.
The U.K. Treasury did give details of various bond issues Indian companies are planning for the London market, including that of Indian Railways. While the size of that issue wasn't specified, the Treasury said HDFC, India's largest mortgage lender, is proposing rupee bonds of up to $750 million, while communications company Bharti Airtel would issue a sterling bond of as much as £500 million.
Vodafone Group Plc, the largest foreign direct investor in India, pledged to invest about 1.3 billion pounds more. This includes 800 million pounds to upgrade its network in India, which is the highest contributor to the group's service revenue, Chief Executive Office Vittorio Colao said in a statement shared with Modi on Thursday.
"This is a huge moment for our two great nations, we must seize the opportunities, remove the obstacles to cooperation, instill full confidence in our relations and remain sensitive to each other's interests," Modi said in his address to lawmakers from both houses of Parliament. "Strong as our partnership is, for a relationship such as ours, we must set higher ambitions."
He spoke of progress in India being "the destiny of one-sixth of humanity."
Modi, who is visiting Britain for three days, is due to lunch with Queen Elizabeth II tomorrow and hold a rally for thousands of supporters at Wembley Stadium in the hope of drumming up funds for pet projects, as he has done at similar events from New York to Sydney.
Gujarat Riots
The U.K. is home to one of the largest populations of overseas Indians and shares a long history with India, which it ruled until 1947. Relations between the two countries, once "imprisoned by the past," are now a "modern, dynamic partnership," Cameron said.
British relations with Modi were not always so cordial. Human-rights groups accused Modi of failing to stop deadly riots in 2002 when he was chief minister of the western state of Gujarat. More than 1,000 people, mostly Muslims, died in the violence.
The U.S. denied him a travel visa in 2005 and Britain cut off contact with his government for a decade. Modi has repeatedly denied the accusations and a Supreme Court-appointed panel found no evidence he gave orders that prevented assistance from reaching those being attacked.
'Entry Point'
Modi implicitly backed Cameron's push to keep Britain in the European Union in a referendum promised by end 2017.
"If there is an entry point for us into the EU it is the U.K.," Modi said during the press conference. "We will continue to consider the U.K. as our entry point into the EU as much as possible."
In his speech, Modi referred to the role the U.K. had played in educating and radicalizing the leaders of the movement that led to India's independence.
"There are others who have spoken forcefully on the debts and dues of history," he said. "I will only say that many freedom fighters of India found their calling in the institutions of Britain. Many makers of modern India, including several of my distinguished predecessors, from Jawaharlal Nehru to Dr. Manmohan Singh, passed through their doors."
Before it's here, it's on the Bloomberg Terminal.
LEARN MORE