Merkel's Prickly Protector: Schaeuble Support Means Coup Is Out
by and
Unlike over Greece, finance minister aligned on refugees

Schaeuble to accompany Merkel to G-20 summit in Turkey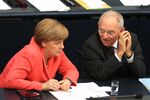 As Angela Merkel pursues her international efforts to stem the flow of refugees, she knows that Wolfgang Schaeuble has her back.
Merkel's finance minister was at odds with her on Greece, but he shares the chancellor's stance, if not always her tone, on the refugee crisis that's emerged as the biggest challenge of her 10 years in office. While some in her coalition look to life after Merkel under a leader who would reverse her open-door policy, Schaeuble's backing for her ensures there's little danger of a putsch.
"In all of his career, Wolfgang Schaeuble has been a man who fulfills his duties with a strong work ethic," Hans-Peter Repnik, a former parliamentarian and friend from university days, said in a telephone interview. "He would agree to take responsibility in an emergency situation, but I'm firmly convinced that he's not aspiring to do so."
Schaeuble, at 73, is both Germany's longest-serving lawmaker and its most popular politician, and he has reason to hold a grudge against Merkel for past political conflicts. Those credentials make him a beacon for coalition rebels in Berlin who want Merkel to close the border or put a cap on refugee arrivals.
One federal lawmaker said last month that a refusal to heed public concern and re-establish control over the country's borders could end Merkel's chancellorship before the end of the year. In that scenario, Schaeuble would be the only possible successor, according to the lawmaker, who asked not to be named speculating on possible outcomes.
Merkel's critics have a chance to challenge her at a party convention in mid-December. Short of a groundswell for her ouster, her other potential options would include resigning if she concluded she'd lost support.
With support for Merkel's Christian Democratic bloc slumping amid the influx of as many as one million asylum seekers this year alone, Schaeuble's clout in both camps means that he, more than any other party figure, holds the key to her political fate.
Greece Spat
"It's enormously important for Merkel to have Schaeuble by her side," Juergen Falter, a politics professor from the university of Mainz, said in an interview. Schaeuble, a veteran of Chancellor Helmut Kohl's Cabinet who helped negotiate German reunification, "doesn't want to go down in history as the man who killed the queen," Falter said. "If it came to a question of leadership, he'd back the chancellor."
Schaeuble made the chancellor's life difficult earlier this year when he threatened Greece with an exit from the euro while she pledged to do all she could to keep it in the 19-nation currency region.
It's a different story on refugees: Schaeuble shares her view that Germany can't seal its borders and like Merkel believes the crisis can only be solved at its roots in Turkey and Syria, according to a person familiar with the thinking of both people.
Careless Skier
Merkel, 61, is taking Schaeuble along to a meeting of Group of 20 leaders in Turkey this weekend that will tackle the Syrian war and the resultant flow of refugees. In what may be a nudge to Merkel to take a more restrictive stance, Schaeuble on Wednesday likened the exodus to an avalanche triggered by "a slightly careless skier," though he didn't specify whom he had in mind.
"I don't think in those kinds of images," Merkel said in a German television interview Friday. "A lot of people are coming to us, but each individual has his dignity."
The two disagree on how to tackle the domestic politics of the crisis. Where Merkel wants to avoid open confrontation with her coalition partners, Schaeuble is happy to adopt a more confrontational stance, even at the risk of feeding internal strife, said the person, who asked not to be named discussing strategy. Thus Schaeuble's support this week for stricter asylum rules for some applicants from Syria angered his Social Democratic coalition partner, but served to bolster his standing among backbenchers in his own party.
"If things really were to go pear-shaped, the leadership role would come to him," said Timo Lochocki, a fellow at the German Marshall Fund of the United States. It may never come to that: there's a higher probability than generally assumed that Merkel's approach will work and the number of arrivals will drop over the next six months, he said.
Organized Resistance
Until that happens, Merkel faces organized resistance in her parliamentary group. Hans Michelbach, a Bavarian lawmaker who opposed Greek bailout aid, said the caucus must be prepared to force the government's hand by introducing its own laws on refugee policy. The caucus has no intention to topple the chancellor, he said, but she has to return to a "path of reason."
It's not even clear whether a government led by Schaeuble would act any differently since the majority in the Christian Democratic bloc still backs the chancellor's approach, said Herbert Reul, a party lawmaker in the European Parliament. About 60 members of her 311-strong bloc openly criticized Merkel over her refugees stance at a caucus meeting last month, but Germany is still two years away from the next federal election.
Merkel and Schaeuble have clashed in the past. She replaced him as CDU party leader in 2000 after a party financing scandal, then in 2004 blocked his ascent to the mainly ceremonial office of German president.
Schaeuble bears no personal grudges, according to his friend Repnik. Perhaps 15 years ago he might have had more interest in pursuing the top job, "when he received a lot of support to seek the chancellorship," he said -- but not now.
"His ambitions are satisfied," said Repnik. "He has achieved so much."
Before it's here, it's on the Bloomberg Terminal.
LEARN MORE