Lidl to Spend $2.3 Billion Stepping Up U.K. Grocery Assault
by
Budget chain to open almost one store a week in 2016

Move adds to pressure on Britain's established supermarkets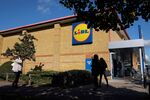 German discounter Lidl said it will invest more than 1.5 billion pounds ($2.3 billion) in the U.K. over the next three years, heaping pressure on established supermarkets such as J Sainsbury Plc to further reduce prices.
Lidl's plans include boosting U.K. outlet numbers to 1,500 from 620 and introducing a new store design featuring wider aisles and baby-changing facilities. The budget chain expects to open almost one new store a week in 2016.
The growth of Lidl and fellow German discounter Aldi has eaten away at the sales and profit of Britain's supermarket leaders, and neither chain is slowing their assault. Sainsbury said Wednesday that grocery prices will continue to fall into next year, while costs continue to rise, sending its shares down the most in more than 18 months.
"Discounter growth has accelerated despite improved macro conditions and a narrower price gap," Dave McCarthy, an analyst at HSBC, said in a note. "Supermarkets are not doing enough to combat the discounters."
Sainsbury shares extended their decline Thursday, falling 3.4 percent to 244.8 pence at 9 a.m. in London. They have dropped more than 10 percent in two days. Market leader Tesco Plc and Wm Morrison Supermarkets Plc also fell.
Lidl said its new stores will feature a design that allows more natural light than their older incarnations. The first opened Thursday in Rushden, England. The redesign is consistent with the discounter's efforts to attract more discerning customers.
"We're always humbled by the sheer volume of people that contact us asking for a Lidl to open in their town or city," Ingo Fischer, Lidl U.K.'s board director of property and expansion, said in an e-mailed statement.
Last year, Lidl's U.K. sales jumped 21 percent to about 4 billion pounds. The retailer has operated in the country since 1994.
Aldi has said it plans to expand from about 600 U.K. outlets to 1,000 by 2022.
Before it's here, it's on the Bloomberg Terminal.
LEARN MORE