Kohl's Outshines Macy's With Third-Quarter Results
by
Sales defy expectations for slump among department stores

Retailer cites strong demand from back-to-school shoppers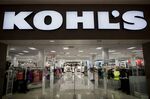 Kohl's Corp. rose the most in nine months after posting third-quarter profit and sales that topped analysts' estimates, defying expectations for a slowdown across the department-store industry after disappointing Macy's Inc. results.
Profit in the quarter through October was 75 cents a share, excluding some items, Menomonee Falls, Wisconsin-based Kohl's said Thursday in a statement. Analysts estimated 69 cents, on average. Sales rose 1.2 percent to $4.43 billion, also beating analysts' projections.
Kohl's said third-quarter sales were helped by strong demand during the back-to-school season and a surge in late October. Chief Executive Officer Kevin Mansell also added more on-trend products and merchandise from national athletic brands like Nike, New Balance and Puma. And the company spruced up its stores, personalized its marketing and expanded its online operations.
"The results were very good," said Brian Yarbrough, an analyst at Edward Jones. "Kohl's has a lot of initiatives and a lot of things they can do to turn around their business."
Shares of both Kohl's and Macy's slumped last week after Citigroup Inc. analyst Paul Lejuez cut his earnings estimates for the companies, saying the industry was suffering from a sales slowdown and a glut of inventory.
Macy's Results
Macy's, the largest U.S. department-store company, posted third-quarter results on Wednesday that added to those concerns. Sales trailed analysts' estimates, and the company cut its annual profit forecast, citing slumping demand for fall apparel and slowing spending by tourists. Macy's shares tumbled 14 percent on Wednesday, the most in seven years, and Kohl's also dropped 5.4 percent.
Kohl's rebounded Thursday, climbing 6.1 percent to $45.79 at the close in New York, the biggest gain since Feb. 4. The advance cut the shares' decline this year to 25 percent this year.
"Macy's has a lot of problems that are company-specific that are not affecting Kohl's," Yarbrough said. "Kohl's doesn't have the exposure to tourism."
Nordstrom Inc., the largest luxury department-store chain in the U.S., is scheduled to report earnings after the close of trading Thursday. J.C. Penney Co. will release third-quarter results on Friday. The company said on Wednesday that comparable-store sales grew 6.4 percent last quarter, topping the 4.5 percent gain analysts projected.
Before it's here, it's on the Bloomberg Terminal.
LEARN MORE