Kerry Says Assad Staying Is a Non-Starter in Syria Talks
by
Secretary of state speaks before heading to talks in Vienna

Russia's offering a plan that doesn't call for Assad to leave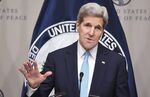 The U.S. and its allies remain firmly opposed to any role for President Bashar al-Assad in Syria's future, Secretary of State John Kerry said, drawing a sharp line of disagreement with Iran and Russia before talks in Vienna resume.
Asking the Syrian opposition "to trust Assad or to accept Assad's leadership is simply not a reasonable request," Kerry said on Thursday. "It is literally, therefore, a non-starter." He acknowledged that the U.S. and its allies are "still working through" the question of Assad and his role with Russian and Iranian officials.
The top U.S. diplomat spoke at the United States Institute of Peace, a policy center in Washington funded by Congress, before departing for talks in Vienna Saturday seeking a political settlement to the civil war that has claimed around 250,000 lives and triggered the worst refugee crisis since World War II.
Despite the rising human cost, diplomats say reaching a political solution for Syria will be a long, difficult process because the countries gathering in Vienna are at odds over how to proceed. Russia and Iran back Assad, while the U.S. and its allies in the Gulf and Europe demand that he step down sooner or later.
Kerry delivered the speech "to be transparent in what we're trying to pursue" at the meeting, according to Mark Toner, a State Department spokesman.
'Potemkin Process'
When Kerry listed areas of agreement with Russia and other nations, he mentioned inclusive governance in Syria, free and fair elections, and the need to keep state institutions intact, but he didn't use the word "transition."
That's a key word that must be defined as transferring power from the Assad family and its powerful allies because "otherwise it's meaningless," said Andrew Tabler, a fellow at the Washington Institute for Near East Policy.
"Unless we are very careful about what we are negotiating about here, Washington could get caught in a Potemkin process that only strengthens Iran and Russia's hand and the partition of the country," Tabler said in an e-mail after Kerry spoke.
Islamic State
Progress toward a diplomatic solution in Syria would be the best possible boost for the international fight against Islamic State terrorists that have seized a swath of Syria and Iraq, Kerry said. He said that an international coalition has "significantly degraded" the group's leadership.
Kerry argued that Islamic State has a symbiotic relationship with the Assad regime. "They even do business with each other," Kerry said, "buying and selling oil." He said they "are enemies far more in theory than in fact, and neither has shown any interest in bringing the killing to an end."
Nothing would do more to bolster the fight against the terrorist group, Kerry said, "than a broadly supported diplomatic process."
In Vienna, Russia will present an eight-point plan calling for the creation of a constitutional reform commission made up of opposition and regime figures. While Assad wouldn't be permitted to serve as chairman for the talks, nothing in the Russian plan indicates he'd be barred from staying on or from running in a presidential election that would follow a referendum on a new constitution.
The officials gathered in Vienna -- including foreign ministers from France, Britain, Saudi Arabia and Turkey -- will begin discussing which opposition groups should be permitted to participate and which should be banned as terrorists.
Prisoner Exchanges
The diplomats will also discuss the mechanics of a cease-fire after a briefing from United Nations Special Envoy Staffan de Mistura, as well as confidence-building measures to encourage parties to put down their guns. These include prisoner exchanges and an end to the regime's barrel bombing.
"We feel some momentum coming out of the last meeting at Vienna where we had all the various stakeholders around the table," Toner said Wednesday. "We're looking to continue to make progress on that."
Unlike an initial Vienna meeting held on Oct. 30, Iranian Foreign Minister Mohammad Javad Zarif won't attend, according to Iranian media.
Kerry believes frequent meetings will inevitably produce progress, according to British Foreign Minister Philip Hammond. Kerry is using "a philosophy based on momentum," Hammond said. "You get people together, you force them to make some forward movement just by keeping their noses to the grindstone, keeping them locked in a room."
'Ongoing Process'
The aim, Hammond said, is to "get this starting to feel like an ongoing process where everybody says at the end, 'When's the next meeting?"'
Fred Hof, the State Department's former adviser on Syria, says that approach is misguided at best. "The Vienna initiative seeks to substitute a process for acting against rampant regime criminality," said Hof, now a senior fellow at the Atlantic Council, a Washington policy group.
A second round of the Vienna talks shouldn't take place until the Assad regime stops bombing attacks and sieges against civilians, Hof said in an interview. Before engaging in further talks, the U.S. and its allies should establish "a comprehensive, collective strategy," he said.
Kerry acknowledged that "there remains much work to do" and said that the U.S. message in Vienna will be that "we all have a responsibility, not to dig in our heels, but to take the next forward step so the bleeding can stop and the building can begin."
Before it's here, it's on the Bloomberg Terminal.
LEARN MORE