Jumbo Poop Helps French Switch to Green Power in Climate Fight
by and
France seeks more biogas plants to help meet renewable targets

Beauval zoo's elephants, pandas provide fuel for methane plant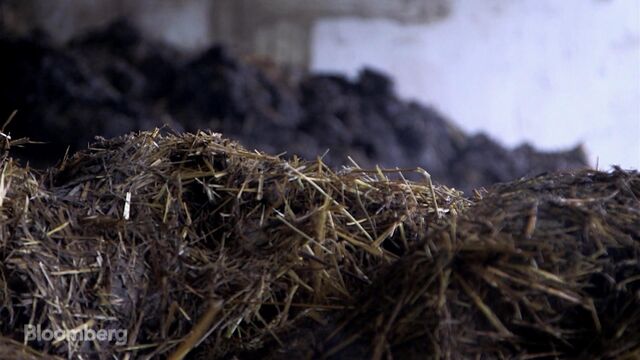 In the elephant paddock at the Beauval Zoo, Limbo is doing his bit for France's ambitions in green energy.
The most prolific dung producer at the family-owned zoo in central France, the grey African elephant, as tall as a bus, churns out 100 kilograms of excrement a day. His manure provides fuel for a nearby biogas plant that keeps the zoo's gorillas and manatees warm, supplies power to the national grid and helps France cut greenhouse-gas emissions.

With France falling short on its renewable-energy targets, the government is pushing for more projects like the one in Beauval. By capturing the methane gas produced by bacteria breaking down manure and waste, the zoo covers part of its energy needs and avoids greenhouse-gas emissions equivalent to about 80 Paris-New York return flights a year.
"We're the first zoo in France to have a biogas unit," said Delphine Delord, the director of communication at ZooParc de Beauval and the daughter of its founder, Francoise Delord. "I'd like to be a model in sustainable development and green investment."
Climate Gathering

France, host of the COP21 climate talks in Paris at the end of month, is no biogas champion. The number of methane plants in the country lags behind Germany by a factor 20, partly because the time needed for reviews and permits before construction discourages new projects.
"While not the same as building a nuclear reactor, there's still a tricky administrative procedure" to build a biogas plant, said Jean-Luc Gasparini, deputy director for the Loir-et-Cher district of France's national grid operator ERDF, which hooked up the Beauval plant to its electricity network.
More Projects
At ZooParc de Beauval, where gardeners weed by hand, the elephant house sports an array of solar panels and palm oil has been banned from its restaurants' frying pans, the methane plant is part of a push to lower the park's environmental impact.
The 2.5 million-euro plant cuts greenhouse gases emissions equivalent to 760 metric tons of carbon dioxide a year, or the output of 255 cars, according to engineering firm Ledjo Energie, which performed the feasibility study for Beauval. Methane, which is produced naturally by decomposing manure, is a greenhouse gas whose planet-warming potential is 25 times more powerful pound-for-pound than CO2. Burning the methane to produce energy prevents the gas from escaping into the atmosphere and reduces fossil-fuel use.

Renewable sources made up 14.2 percent of final energy consumption in France in 2013, compared with a target for 15 percent, according to official data. The government is seeking to lift that to 23 percent by 2020.
Slash Bureaucracy
Administrative delays aren't helping, according to Delord. "I don't understand why there are not more projects," she said. "France is dying from regulation."
French Energy and Environment Minister Segolene Royal has called for 1,500 proposals by 2017 for new methane plants, as well as lifting the price paid for electricity from some biogas plants while attempting to slash bureaucracy that can hold projects back for years.
Higher prices for electricity would be a boon for biogas plants, and would help Beauval recoup its investment faster, Delord said.
France had about 385 units turning waste and biomass into methane by the end of last year, compared with around 8,000 in Germany, including at Hellabrunn Zoo in Munich.
Pure Manure
Technician Cedric Joie manages the Beauval biogas plant's digester tank, a circular silo holding a 5-meter-deep soup of manure, dough waste from a nearby cookie factory and pickle water from the local gherkin plant. Heated and stirred, the mixture feeds the millions of bacteria that turn the waste into methane gas and a solid residue usable as a fertilizer.
The methane unit isn't so different from a sewage treatment plant in terms of biology and the mechanics of pumps, valves and mixer, said Joie, who trained in water management with a specialization in waterworks maintenance.
The 150 tons of steaming manure and straw piled up next door will keep the plant going for barely 10 days, according to Joie. In addition to zoo poop that includes about 20 kilograms produced every day by France's only pair of giant pandas, five neighboring farmers supply manure from cows and goats that helps feed the biogas unit.
"In pure manure, I bring in almost 100 tons a week," Joie said.
Hippo Poop
The methane from the Beauval plant feeds a generation unit from Schnell Motoren AG that burns the gas to produce heat and as much as 265 kilowatt of electricity. The unit, packed into the space of a shipping container, produces below capacity for now, generating about 190 kilowatt of power, according to Delord.
A planned hippopotamus basin with observation glass, to be inaugurated next year, will provide a useful supply of additional sludge for the biogas plant, she said. 
"The manure of the hippos will be very important because it's more liquid," Delord said. "We're excited."
Before it's here, it's on the Bloomberg Terminal.
LEARN MORE