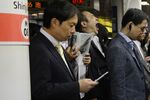 Overwork is such an issue in Japan that Prime Minister Shinzo Abe has vowed to fix it. He wants companies to reward productivity rather than long hours, and to create workplaces that allow men and women to finish on time and share the burden of responsibilities at home. 
The problem is, it's being under-reported and the lack of accurate data to benchmark against undermines efforts to stamp it out.
Full-time employees logged a little more than eight hours a day in September, a labor ministry survey of businesses showed. That totals 167.4 hours a month, which includes 14 hours of overtime. 
When you look at how much people say they worked, it's a different story. In a labor union survey last year, regular workers said they did 39 hours of overtime a month, and managers did more than 56 hours. About half of that was unpaid, for both groups. 

The government data results can't be true, says Atsushi Takeda, an economist at Itochu Corp. The labor ministry report only reflects what businesses say and fails to capture conditions of workers who don't work on a time-card system, according to Takeda.
 If the government wants to help women succeed in the work force, it needs to grasp what hours people are actually working, as well as help provide flexibility so that they can juggle work and child-rearing responsibilities, he said.
 "The problem is that we can't assess the current situation with the statistics available to us," Takeda said. "There won't be an accurate solution unless a survey addresses this properly."
Before it's here, it's on the Bloomberg Terminal.
LEARN MORE