Goldman Sachs Women Gain Ground in New Managing Director Class
by
Bank granted title to 280 people during previous round in 2013

Traders account for smaller share while bankers' slice is more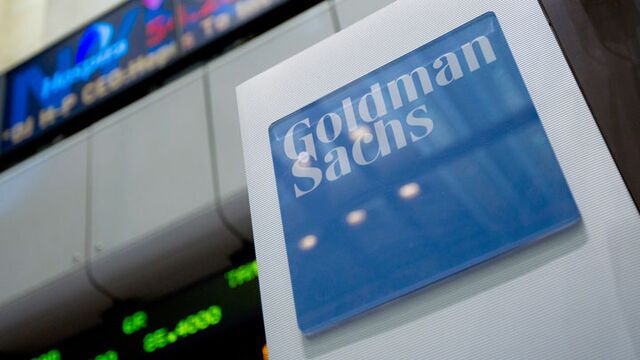 Goldman Sachs Group Inc. promoted 425 people, including a record proportion of women, to managing director, the Wall Street firm's second-highest rank.
The class's total size surged from 280 in 2013, when the bank decided to change from an annual process to a biennial promotion. Women accounted for 25 percent of the executives named this year, up from 20 percent in the previous round, according to a person briefed on the matter. Goldman Sachs names so-called partners in even-numbered years, and in 2014 granted 78 people that title, its highest rank and a nod to the firm's history as a private partnership.
The promotions disclosed Thursday on the New York-based company's website take effect Jan. 1. The designation usually leads to a higher base salary, as much as $400,000, the person said. Managing directors also get bonuses that can boost total compensation into the millions of dollars. While women made up a larger share of the class, the ratio still lags behind the 37 percent of total U.S. employees at the firm who are women.
Investment bankers comprise 23 percent of the class, up from 18 percent two years ago, while the trading division accounts for 24 percent, down from 33 percent in 2013, according to a person with knowledge of the figures. Nine percent of those promoted work in the firm's technology division, up from 7 percent two years ago, and 17 percent had an engineering role, which includes tech, the person said.

Goldman Sachs has touted its ability to retain long-tenured workers even as per-employee compensation has slumped more than 40 percent from pre-crisis levels. Managing directors typically number more than 2,000 at the firm, which had 36,900 employees at the end of September, up 10 percent from a year earlier.
Fifty-four percent of those promoted work in the Americas; 26 percent in Europe, the Middle East and Africa; 16 percent in the Asia-Pacific region; and 4 percent in India, the person said.
The following is a list of the new managing directors:
Catherine Addona-Peña
Alokik Advani
Sam Agnew
Daniel Ahern
Murtaza Ahmed
Fusae Akamatsu
Phil Almond
Ana Alonso
Roy Appelman
Juliano Arruda
Alex Ashwal
Daniel Avery
Misty Bailey
Tom Barkes
Jose Barreto
Sushil Bathija
Gregoire Baudot
Olivier Belaich
Sharon Bell
Allison Beller
Christine Benson Schwartzstein
Sam Berberian
Todd Berger
Sandy Bernhardt
Greg Berube
Shashi Bhushan (Bengaluru)
Lyla Bibi
Julie Billings
Alexander Blanchard
Tristan Blood
Katherine Bloom
Alexander Blostein
John Blythe
Andrea Bonini
Vijay Borkar
Jean-Pierre Boudrias
Dyson Bowditch
Rhett Brewer
Sean Brewer
Cameron Brien
Tyler Brooke
Marios Broustas
Melissa Brown
Jacob Buitelaar
Jason Burgess
Manuel Camacho
Tim Campbell
Eliot Camplisson
Susana Cao Miranda
Nicholas Chan
Sorubh Chandani
Amy Chang
Dennis Chang
Scott Chastain
Scott Chen (IBD)
Yu Chikami
Vikram Chima
Sung Cho
Caroline Chu
Simon Clarke
Ray Clifford
Jorge Combe
William Connolly
Ron Cortina
Daniela Costa
Yasmine Coupal
Patricia Creedon
Brian Culang
Michelle Daly
Ranga Dattatreya
Christopher Daur
Brian DeCenzo
Alexis Deladerriere
Robert Devens
Devanshu Dhyani
Scott Dias
Johanna Diaz
Simon Dickinson
Andrew DiMaria
Darren Dixon
Terence Donnelly
Christopher Droege
Lindsay Drucker Mann
Frank Drury
Caroline Dunne
Steven Edwards (Internal Audit)
Jeffrey Egee
Naoko Ehara
Inna Elyashkevich
Jason English
Andrew Erekson
Joris Esch
Ana Estrada
Cristina Estrada
Owain Evans
Julia Feldman
Jing Feng
Albert Ferng
Val Feygin
Dan Fishman
Dennis Fleck
Terence Flynn
Ian Foster (IBD)
Kelly Galanis
Ilya Gaysinskiy
Libardo Gerardino
Said Ghusayni
Michael Gillott
Arvind Giridhar
Mark Glotfelty
Chloe Goddard
Lakshya Goel
Peter Goertzen
Andres Gonzalez
Clara Gonzalez-Martin
Claire Goodeve
Anton Gorshkov
Simon Gosling
Jessica Binder Graham
Michael Graham (Securities)
Glenn Greilsamer
Fabrizio Grena
Alain Griveau
Pierre-Yves Guerber
Renaud Guidée
Renu Gupta
Christoph Haenschel
Simon Hale
Jay Handfield
Deirdre Harding
Nada Hassan
Frances Hawkins
Tobias Heilmaier
Christoph Heuer
Kenneth Ho
Luke Hodges
Jennie Holloway
Matthew Hostasa
Henry Howell
Soomin Hu
Victor Hu
Andrew Huang
Lee Hughes
Michael Hui
Shinichiro Ichiki
George Ingram
Francesca Innocenti
Karen Ip
Yuichiro Isayama
Shubha Iyer
Kristy Jago
Matt Jahansouz
Lear Janiv
Jessica Janowitz
Franklin Jarman
Jabe Jerram
Lei Jin
Moritz Jobke
Charles Johnston
Ganesh Jois
Katherine Jollon Colsher
John Jonke
Shrut Kalra
Emiko Kamoda
Markus Kant
Yugandhar Karna
Lotfi Karoui
Vanya Kasanof
Ting Ke
Kyle Kendall
Richard Kendrick
Corey Kenyon
Anthony Kim
Seong Eun Kim
Sean Kingston
Teresa Kingswood
David Kirschner
Michael Klym
Jared Klyman
Andrew Knight
Timur Kocaoglu
Kevin Kochar
Christina Kopec
David Korpi
Caroline Kraus
Jennifer Krevitt
Ajay Kumar
Raj Kumar
Kosuke Kurosawa
Marc Kurz
Takashi Kuwano
Loredana La Pace
Phil Labbe
Marco Laicini
Vidya Lakshmi
Lia Larson
Kinger Lau
Max Layton
Jerome Lebuchoux
Andrew Lee (GIR)
David Lee (IMD)
Jay Hyun Lee (MBD)
Jerry Lee
Shane Lee
Valerie Leeder
Panayiotis Lemonidis
Joe Lenehan
Daniel Levy
Yael Levy
Olga Lewis
Christina Sun Li
Chuan Li
James Li
Edmund Lim
Stephen Little
David Liu
Daniel Lochner
Michael Loetzsch
Donald Lu
Rochelle Lucas
Matthias Ludemann
Christopher Lvoff
Andrew Lyons
Kristen Macleod
Manju Madhavan
Lynn Magnus
Thomas Malafronte
Sajith Maliakel
Rakesh Manani
Elizabeth Mann
Jim Mannoia
John Manzi
Jia Mao
Guillaume Marinacce
Jeremie Marrache
Matthew Mason
Gaurav Mathur
Yuji Matsumoto
Tom McAndrew
Scott McHugh
Andrew McIlroy
Jenny Meng
Shahmil Merchant
Joann Mercurio
Maryline Mertz
Marco Messeri
Hideo Michiba
Jared Miller
Stacey Miller
Elizabeth Milonopoulos
Pascal Mischler
Pooja Mishra Prahlad
Doretta Mistras
Matthew Mizrahi
Hillel Moerman
Soren Moller-Rasmussen
Fausto Monacelli
Q Montazeri
Leonie Morel
Owen Morris
Daniel Motta
Ricardo Mourao
Christian Mueller-Glissmann
Niladri Mukhopadhyay
Mathieu Munuera
Francis Murphy
Thomas Murray
Charles Myers
Harsh Nanda
Asad Naqvi
Ryan Nash
David Naulty
Toh Ne Win
Shapour Neshatfar
Billy Newport
Anya Newton
Katrina Niehaus
Christos Nifadopoulos
Ryan Nolan
Brian Nordahl
Steven Nowak
Matthew O'Callaghan
John Olivo
Oscar Ostlund
Marco Paesotto
Kanak Palanisamy
Sundaram Pandiarajan
Mrudang Pandya
Francesco Paolicelli
Dhaval Parekh
Keyur Parekh
Akash Patel
Himin Patel
Jatin Patel
Cristina Patron
Nicholas Peach
Agostina Pechi
Xi Pei
Shlomit Perry
Joseph Persky
Carlos Prieto
Ricardo Puggina
Tim Quandt
Stephanie Rader
Emilie Railhac
Amit Raje
Sudarshan Ramakrishnan
Akila Raman
Vishaal Rana
Robert Rancitelli
Zeeshan Razzaqui
Paolo Re
David Reis
Kevin Relihan
Ben Reuter
Matt Rhodes
Clare Richards
Brian Richardson
Richard Rivero
Duane Robinson
Fabiano Romeiro
Agustin Romo Calvo
Karen Rossi
Matias Rotella
Anne Russ
C. Kyle Russ
Jamie Russell
Isidoor Rutten
Timothy Ryan
Craig Sabal
Carolyn Sabat
Michael Sachs
Hassan Salamony
Nicholas Saunders
Carly Scales
Marc Schaffer
Tom Schouwenaars
Jameson Schriber
Leonard Seevers
Masataka Sera
Arpan Shah (Internal Audit)
Dhruv Shah
Nitin Shah
Ashoke Sharma
Nik Sharma
Salil Sheth
Jonathan Shugar
Aaron Siegel
Eric Siegel
Julie Silverman
Jim Sinclair
Balaji Sivasubramanian
Neil Slee
Martin Smith (IMD)
Scott Smith
Lin Smyth
Douglas Spell
David Sprake
Jack Springate
Sujatha Srinivasan
Ricardo Stabile
John Startin
John Stecher
Alexander Stiles
Peter Stone
Miruna Stratan
Matthew Straughen
Hiroyuki Sugiura
Joseph Sumberg
Philip Sun
Lawrence Tankel
Richard Tarling
Ian Taylor
Mike Taylor (Services)
Sophie Taylor
Latifa Tefridj-Gaillard
Kurt Tenenbaum
Prasanna Thati
Radha Tilton
Vincent Tiseo
Jandirk tom Dieck
Margo Topman
Shinsaku Toriyama
Dom Totino
Joseph Traina
Matthew Traina
Alexis Tsang
Tetsuya Ukai
Silvia Valente
Laura van Alkemade
Carol Van der Vorst
Alexis Vassilakas
Kerone Vatel
Thomas Vaughan
Meriel Vessey
Alexandra Vincenzi
David Wade
Dennis Walsh
Alex Wang
Jun Wang
Moon Wang
Katherine Ward
Amy Watson
Peter Watson
Whitney Watson
Gregory Watts
Jie Wei
Michael Weiss
Miriam Wheeler
Pete Williams
Wes Williams
Jiahong Wu
Tony Xu
Michael Yaeger
Satoshi Yamagata
Huan Yang
Jonathan Yarrow
Sylvia Yeh
Vincent Yeung
Derek Yi
Jon Yoder
Jaewon Yu
Brendan Zeigon
Daniel Zimmerman
Martin Zoll
Before it's here, it's on the Bloomberg Terminal.
LEARN MORE