Europe's Passport-Free Travel Strained as Sweden Sets Controls
by
EU leaders grapple with refugee crisis at Malta summit

Europe to offer aid for Turkey to seal off external frontier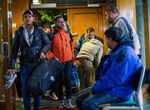 Europe's system of passport-free travel came under pressure Thursday after Sweden became the fifth country to impose temporary border checks to keep out the rising tide of refugees.
Sweden called for an overhaul of the system, which makes inner-European travel like trips between U.S. states and is routinely hailed by European Union leaders as one of the greatest achievements of a continent without walls.

"We need another system, that is obvious," Swedish Prime Minister Stefan Loefven told reporters on Thursday at a summit of EU and African leaders in Valletta, Malta. "This is not an issue for one, two or three countries. This is an issue for the whole European Union."
As Sweden's generous asylum policies have come under threat, disarray at internal EU borders has shifted attention to control of the bloc's external boundaries, mainly the Aegean Sea frontier between Greece and Turkey. EU leaders will discuss later Thursday a package of incentives to persuade Turkey to stop letting Syrian war refugees pass further north.
Checks 'Inevitable'
Twenty-two EU countries and four others are part of the Schengen system, named after the Luxembourg town where the free-travel treaty was signed in 1985. Britain and Ireland are among the six EU countries that still check passports at airports, docks and train stations.
"Saving Schengen is a race against time and we are determined to win that
race," EU President Donald Tusk told reporters. "Without effective control of
our external borders the Schengen rules will not survive." EU leaders stayed
to hold a discussion of migration policy after the African meeting ended.
Sweden's open-door policy has made it a magnet for asylum seekers, with more than 120,000 arriving this year. Sweden expects as many as 350,000 by the end of 2016. Sweden's migration agency expects the costs to reach 60 billion kronor ($7 billion) in 2016, twice an earlier forecast, and the government will outline a supplementary budget on Thursday.
There was no shortage of blame for the border-free system's failings. Turkey, then EU members Greece and Hungary have been criticized for letting Syrian war refugees pass through en route to Austria and Germany, where Chancellor Angela Merkel faces domestic wrath for being too welcoming.
Distribution System
Austrian Chancellor Werner Faymann warned that in the absence of a secure external border, "each country will start going its own way."
Widespread unease about migration is most pronounced in eastern European countries which rebuilt their ethnic identities after escaping communism, but the political backlash against mostly Muslim newcomers has infected western European politics as well.
"Many people think here that migration is a positive thing: the European experience just provides evidence of the opposite," Hungarian Prime Minister Viktor Orban said.
Orban is an outlier in the EU, backed by only three other countries in objecting to a migrant-distribution system, but his argument that the 28-nation bloc has to seal off its external borders has become mainstream.
Syrian Refugees
To solve that dilemma, the EU turned to Turkey, which has housed 2.5 million refugees from Syria and Iraq and let many thousands more travel onward to Europe, often by risking the sea passage to Greece in dinghies and lifeboats.
EU-Turkey ties have frayed since Turkey started membership talks in 2005, as President Recep Tayyip Erdogan's governments strayed from EU civil rights standards and the bloc's economic woes dimmed its interest in further expansion. The European Commission criticized the Turkish government on Tuesday for intimidating the media and cracking down on domestic dissent.
EU governments plan to offer financial aid, visa waivers for Turkish travelers and the relaunch of the entry bid. The EU at first weighed 1 billion euros ($1.1 billion) to help Turkey lodge Syrian war refugees and prevent them from going on to Europe, but Turkey has driven up the price. Now a figure as high as 3 billion euros is under discussion.
Britain, a fan of Turkey's entry bid until U.K. Prime Minister David Cameron's government turned against EU enlargement, plans to make a separate contribution of 275 million pounds ($418 million) over two years, a British official told reporters in Valletta.
Watch Next: Merkel Reaches Refugee Compromise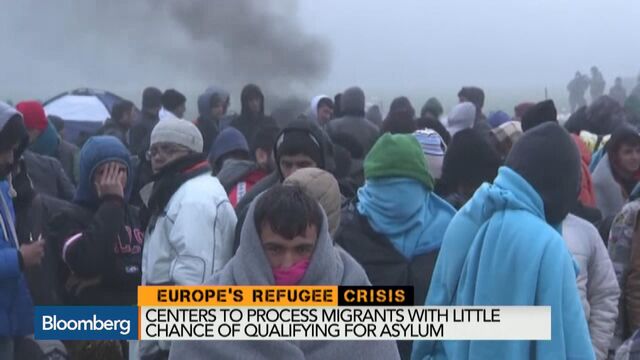 Before it's here, it's on the Bloomberg Terminal.
LEARN MORE