Photographer: Andrew Harrer/Bloomberg
Charting the Markets: Federal Reserve Officials Take Center Stage
Hong Kong stocks rebound, Australia's dollar rallies and Rolls-Royce shares lose a fifth of their value.
by
A spate of U.S. central bankers speak today, and that means investors will follow every word from Fed Chair Janet Yellen, her No.2, Stanley Fischer, and four others. Not only does the timing of the first rate increase since 2006 matter, but also the pace of increases thereafter. Global stocks are little changed for a second day after five days of losses.

After a five-day drop, the longest since Aug.24, Hong Kong's Hang Seng Index rebounded 2.4 percent, becoming Asia's best-performing stock market on Thursday. The gauge has suffered from a series of weaker-than-forecast Chinese economic data. It was the third worst-performing global equity benchmark in the third quarter, sinking 21 percent, after China devalued the yuan. Since then its fortunes have turned. Shares have risen 10 percent since the start of October.

It's the Aussie's turn in the spotlight after the Kiwi shone yesterday. Australia's currency jumped against all 31 of its major peers after the nation's unemployment rate unexpectedly slipped in October. The data indicate the economy may be firming, lessening the need for further interest rate cuts. Swaps prices put the odds of a reduction by June at about 50 percent, from 62 percent before the release of the jobs report. The Aussie has sunk 13 percent against its U.S. counterpart this year.

Shares of Rolls-Royce Holdings sank the most in 15 years after the U.K. engine maker announced a profit warning. Some £2 billion ($3 billion) of market value disappeared after the company said 2016 earnings will be hurt from declining demand for business jet engines and lucrative maintenance services on bigger turbines. This year's profit will also be at the lower end of the forecast range. New CEO Warren East will unveil plans to reorganize the company on Nov.24. Shares have plummeted 37 percent in 2015, on track for the worst annual performance in seven years.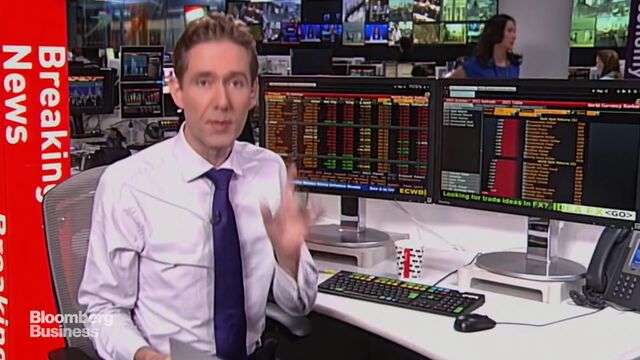 Mark Barton is a presenter on Bloomberg TV. Follow him on Twitter @markbartontv
Before it's here, it's on the Bloomberg Terminal.
LEARN MORE